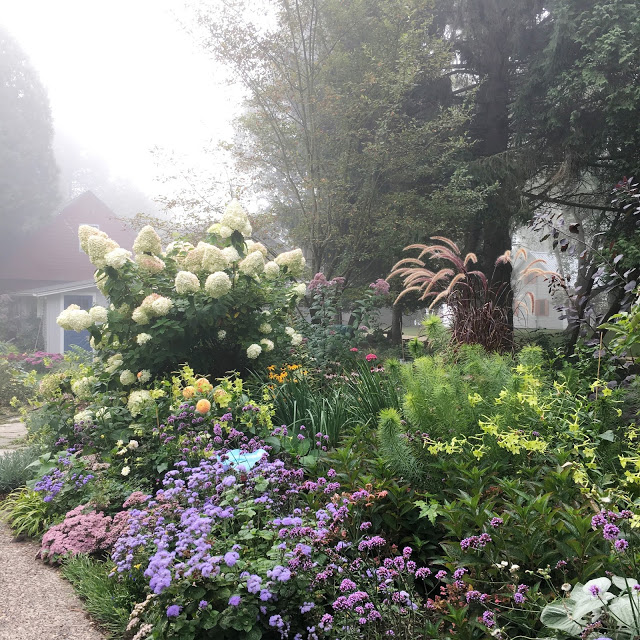 Two things happened on the same day earlier this week that once again reinforced my "garden for yourself" school of thought.
First, I read Garden Media Group's analysis of the gardening trends they see for 2018. One of the things it seems to show is that the trend toward a less cultivated style of gardening is growing. I think we have Piet Oudolf and the new perennial garden movement to thank for that. A few weeds are OK, leave some things standing for the birds and keep nature in mind.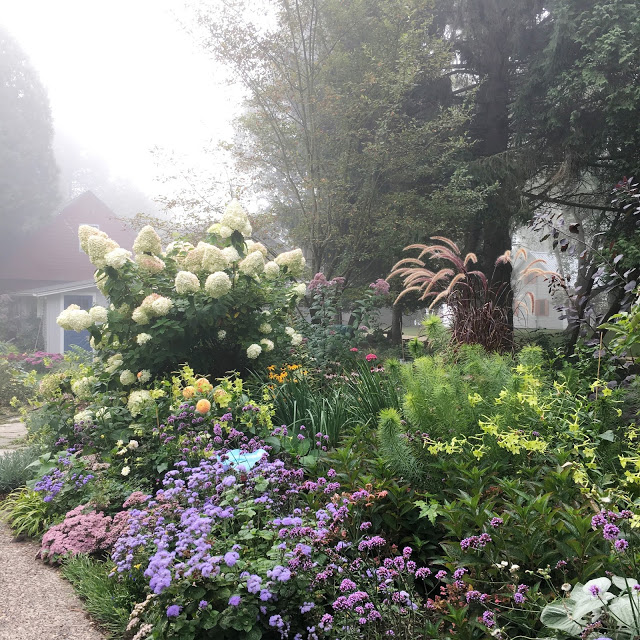 Then, as I was walking out the door on a very foggy morning, I snapped a quick picture of the patio garden, which is looking quite nice for this time of year. Like a lot of gardeners, I take a lot of closeup photos, often at the expense of the larger view (a forest for the trees, situation, if you will). So it was sort of nice to force myself to see this area in a photo and be generally pleased with what I saw.
So I started thinking about the garden trends I had just read about. Granted, this report is created with the garden industry in mind. It's meant to help people in the business better target their customers wants and needs and to help garden media understand what kinds of things consumers are interested in. Still, I can't imagine a major change in my overall gardening style happening at this point.
This was the first garden I "developed" when we bought the house and I've shared a lot of the failures and successes in it on this blog. I'd say there have been a lot more disappointments than pleasant surprises in this garden, a factor of my inexperience in its original creation and an unwillingness to start from scratch.
There are still challenges, but I think this is as good as this part of the garden has looked. I'm onto something—finally—and no amount of trend following is going to change that.
Of course I could always use that report to feel a little better about the fact that there is always a weed lurking in there. And there is, perhaps, one other advantage to embracing that report, as it relates to my garden. Earlier this year, when I shared a less flattering photo of this garden on Facebook, one reader told me, "Sorry, it just looks like a bunch of weeds." If I had known then what I know now, I could have told her I was just embracing a trend.