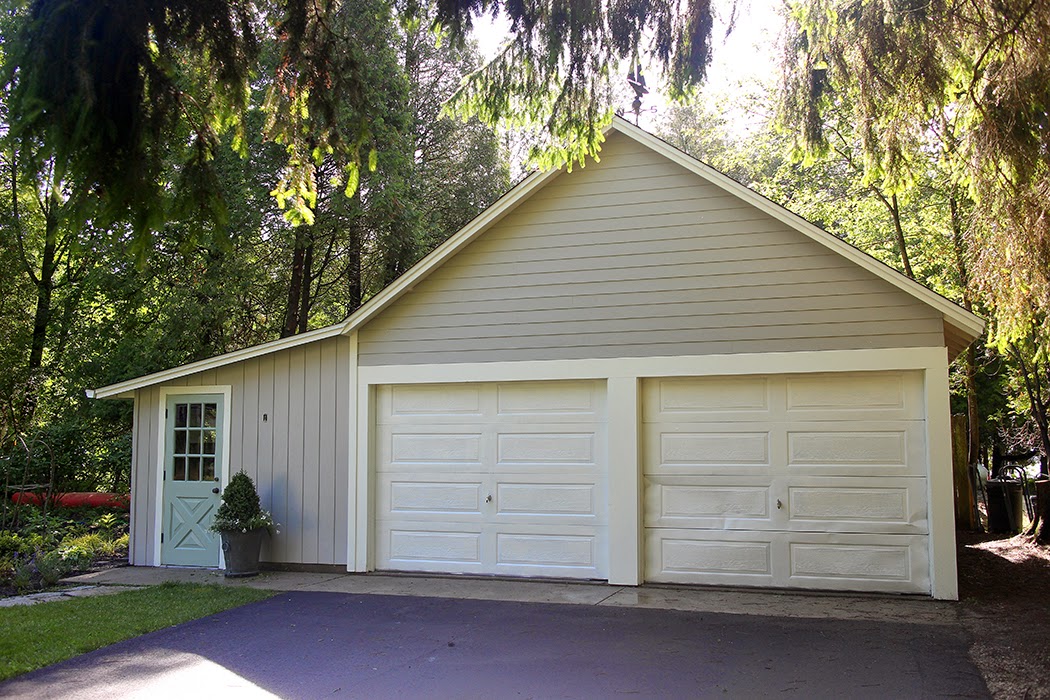 The readers of this blog have saved my bacon (and at least part of my sanity) more than once, and I think you've all done it again.
I am downright impetuous when it comes to some things, and paint colors are a big trigger for me. A couple years ago I painted my front door and less than a month later a copy of Coastal Living magazine came with a photo of a gorgeous turquoise door and I almost ran to the paint store right then to repaint the door. Readers talked me off the ledge that time, and you've done it again on the garage.
Yesterday I mentioned that I'm not entirely sold on the new paint color of the garage. The mere fact that I have been seriously considering repainting a garage that I just paid to have painted less than a week ago is not a sign of an entirely sane mind and while none of you actually said that, you all had a lot of very constructive comments that were really helpful.
One person pointed out that exterior colors fade, which is something I hadn't thought of. Another said it would be best to live with it for at least a year before doing anything. And pretty much every commenter said they thought it looked pretty good. Couple all that with the face that Mr. Much More Patient either really likes it really doesn't want me to go through the hassle of repainting it.
Dedicated blog reader Heather also pointed out that it might even been the Wythe Blue door that's throwing the whole thing off (I actually had this thought as well for a brief moment and so have a few other people so I think there might be something to it). Changing that door color is a super easy change.
The other day I ran out to the Sherwin Williams store to get some paint chips just to check out what they had in the way of grays. I grabbed a handful (by the way, SW has nice, big paint chips; why doesn't Benjamin Moore do that?) and really fell in love with a color called Gray Clouds. When I got home I looked at it in the light by the driveway and loved it even more. In my head I was thinking, "This is it. It's perfect."And then I held it up to the garage.
And guess what?
It's damn near the same color as what's there. It might be just a tinge greener, but I know that if I painted the garage that color you wouldn't notice a difference.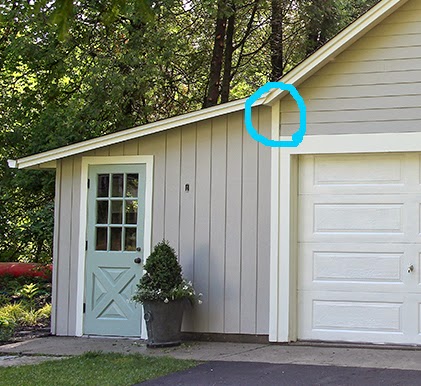 That piece of white trim needs to be gray and I have to get a new light for by the door.
So, for now, at least, the paint color stays. I will paint that weird trim bit that sticks up this weekend but everything, including the suspect door color, is staying. Plus, by the time we're done putting the pergola on the garage, I don't think you'll even be looking at the paint color much. And last night I planted a climbing hydrangea on the side of the garage that we can see from the house that I hope will cover most of that side in time (climbing hydrangeas are notoriously slow growers and I wouldn't normally recommend planting them to grow up a structure, but I'll get into that another time).
So, dear readers, you bailed me out again. This weekend, instead of repainting a perfectly nicely painted garage, I'll be gardening, sailing, paddleboarding and enjoying the holiday. Thanks, gang. I hope your weekend is great too!