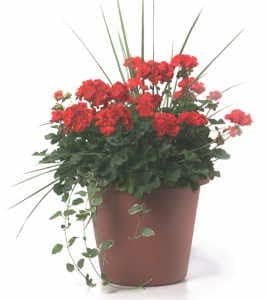 F irst, some exciting news. I've been selected to be part of Proven Winners' writers' distribution. This means that I'll get some new varieties of plants to trial prior to their release (so I will get a sneak peek at the 2011 introductions). I'll also be going to Proven Winners Outdoor Living Extravaganza March 6 in Chicago, which I'm very much looking forward to.
I also got a pack of literature, including the material sent to Proven Winners retailers, which is pretty interesting stuff. There's one piece in there about how many plants you should put in a hanging basket. Six, apparently is standard (keep in mind these are liners, so very small plants) but Proven Winners encourages retailers to use nine plants to create a more lush basket.
I remember years ago I used to think that the White Flower Farm catalog was on the cutting edge of container design. Maybe that's because I grew up in a place where a mixed container meant one thing: a spike, a geranium and vinca vines trailing out. Since then a lot of garden designers and companies have jumped on the creative container bandwagon and their creations are a great place to get ideas from for our own gardens.
Thankfully, container gardening has come a long way since the old standby. These days you don't have to go far to find great container combinations, and even if you're not a container gardener, there's some value in getting an eye for what makes a good combination in a container, because the same principles apply to combining plants in a perennial garden.
By now you've probably all heard of the "Thriller, filler, spiller" theory to container gardening. Someone got really cute and decided to make it all rhyme, but the idea is simple: have something tall, something that fills out the middle and something that trails over the edges. Obviously the person who came up with those terms was looking at a container different from the one pictured above … that spike is a lousy thriller!
…………………………………………………………………
There's no lacking a great thriller in this next container.
That's King Tut Egyptian Papyrus and I can almost guarantee you I'll have it on my porch this year. I LOVE it! But it's huge. It's supposed to grow to between 48 to 72 inches tall and the "spikelets" on top can be one foot across. But here's the kicker on this plant: It's a water plant, and Proven Winners even goes so far as to suggest that if you grow it in a pot, you plug the drainholes, but of course that won't work if you have any other plants in the container (as shown in the picture). Since it's such a big plant, you want it in a big container and I'm thinking maybe I could plant it in it's own (drain hole-plugged) container and sink that container into another container. Anyway, this combo is stunning.
…………………………………………………………………
…………………………………………………………………
This container is more traditional in nature in it follows the thriller, filler, spiller rule, but what sets it apart in my mind is the unusual color palette, which is, obviously, intensified by the container choice. Aptly named Chestnut Hill, it's also an excellent use of coleus, which I think makes a bigger statement when only one kind is used. With so many great coleus out there it's sometimes hard to restrain yourself to just use one, but it really looks so much better en masse (sound familiar, perennial gardeners?)
…………………………………………………………………
…………………………………………………………………
Where the previous container had a splash of HOT color, this one is cool and refreshing (and perfect with those white columns. The blues, greens and whites accented with a blue container make this combination a breath of fresh air on a sticky, hot summer day. I think this container would be especially nice right at eye level, such as on a stair railing support because it also has great texture with the variegated sage (and it probably smells nice too). I'm a toucher (not in a dirty way, I promise). When I shop for anything be it clothing, fabric, furniture or plants, I have to touch them, so I think it's nice to have plants that have a different texture in the touching sense, not just the visual sense, placed where people can reach out and touch them.
That's just a few of the hundreds of container recipes Proven Winners has on its site. I don't think I've ever copied a container verbatim, but looking at combinations created by other people is a fantastic jumping off point to create your own mini gardens.
All photos other than top photo are from Proven Winners