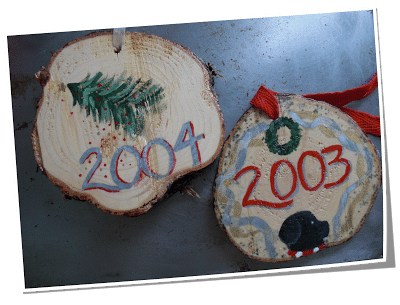 Every Christmas tree is special and every Christmas is memorable for one reason or another. This project combines both of those. And if you have kids, I think it's especially great. The good news is that it's not too late to make these tree trunk ornaments, although usually I start the project when we bring the tree home.
Start by cutting a slice off the trunk of your tree. About a half-inch thick is perfect, but it can be hard to be that precise. Try to make the sides as flat as possible. If your tree is already at the curb, well, grab that saw and get out there.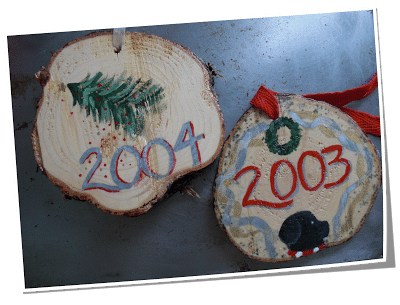 Two of my favorite trunk slice ornaments memorize the year we got an enormous tree (see how big the slice is?) and it promptly fell over the moment I finished decorating it, and the year we got a new puppy.
Once you cut your slice off, it's best to let it dry out for awhile. I usually put it away with the Christmas decorations and bring it out the next year to paint, but I'm sure a couple weeks of drying time would suffice. Once it has dried out, give it a good sanding on each face. Then it's just a matter of pulling out the paint (acrylics or just about any leftover paint you have around will work) and getting to work. I like to paint the year on one side (you may want to write the year lightly with pencil on them before you put them away to dry in case you get backed up on decorating them) and a depiction of something that happened that Christmas or during the year. These two bring back memories of the year we got an ENORMOUS tree, which fell over within five minutes of me sitting down exhausted on the couch with a glass of wine to admire my work (every tree since has been tied to the ceiling beams before even a light goes on it) and our oldest Newfoundland's first Christmas.
When the paint is dry, I give it a couple coats of clear polyurethane and enjoy hanging them on my trees every year. I'm sure kids would love to help with this project and enjoy looking back over the memories of Christmases past.