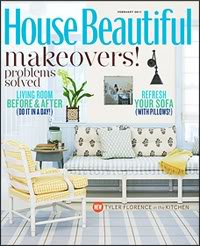 Since most of the country is buried under a pile of snow, gardening seems like it's so far off we could cry. So this week is Gardening Week at The Impatient Gardener. I'll be posting only Gardening-related posts, but if you want to know the latest on house stuff check out the Facebook page because I'll be updating reno stuff over there.
You know it's going to be a good weekend when you open the mailbox on Friday and find the latest issues of both House Beautiful and Fine Gardening. I can think of four magazines that I absolutely love. I work for one of them (so I'm required by law to love it), and I also love Coastal Living (although it's getting a bit thin these days).



So which one did I reach for first? Well, it's February, so that means I'm totally dreaming about gardening.
Between getting two great magazines in the mail and an awesome Packers victory in the Superbowl, I couldn't ask for much more.
Anyway, Fine Gardening got me even more fired up for gardening season. To give you an idea of where I was before that magazine showed up, the other day a Facebook friend who lives in a part of the country with much nicer weather posted that she had spent most of the day weeding and I was overcome with jealousy. You know it's bad when you want to weed (someone please remind me of this in June).
In honor of my need to weed, I'm laying off the renovation posts this week and I'm only talking about gardening stuff. There are a few things going on at the house, but I'll fill you in on those some other time, because this week I'm thinking about spring.
One of the articles in Fine Gardening was about composting. I love composting and I even have a book that's well over an inch thick on the subject, but the fact of the matter is, I don't have the time or energy to dedicate to tending my compost pile. What I loved about the FG article is that it simplifies the process. Any organic matter will turn into compost if you give it enough time, but the trick is get enough of the stuff quickly enough to be useful in your garden. The FG article advocates a very loose guideline for compost, which I love. Six parts of "browns" to one part of greens. Layer it all up, water in between each layer, mix every three layers. That is the kind of thing I can handle. I'm just not up for setting up a string of compost bins a mile long to accommodate various stages of compost. And with the new compost bin I got last year, I hereby resolve to be more attentive to my compost, but not too attentive.
The other article in Fine Gardening that I love is a primer on garden design by Ann Stratton. This is something I've struggled with, and I bet a lot of gardeners would say the same thing. Knowing how to grow a plant and select the right plant for the right spot is completely different from designing the overall look of a garden and I think the latter is something that either comes from formal education or trial and error. This is why a lot of great gardeners hire garden designers.
I can see the design flaws in my gardens. I have a serious lack of structure and all-season interest. I used to plant in singles instead of drifts (I've been correcting that over the years). I lack repetitive elements. I know that I need those things, but how to incorporate them can be a challenge.
So I spend a lot of time reading books and magazine articles on garden design (you can see some of the plant IDs from the article here). The article in Fine Gardening mentions a concept I don't think I've heard before but I love it and when I saw the accompanying picture it made perfect sense to me. It's the triangle rule. That is, try to plant similar things in a triangle.
In the photo above (from the article; you can go online to see the specific plants in the photo), see how the iris in the bottom right corner is repeated on the opposite side of the path about halfway up and then again on the right side of the path further along? Doesn't it just feel like it is escorting you down the path?
I love this design idea and I will definitely be incorporating it in to some of the new gardens I'll be working on come spring (and some of the old ones too).