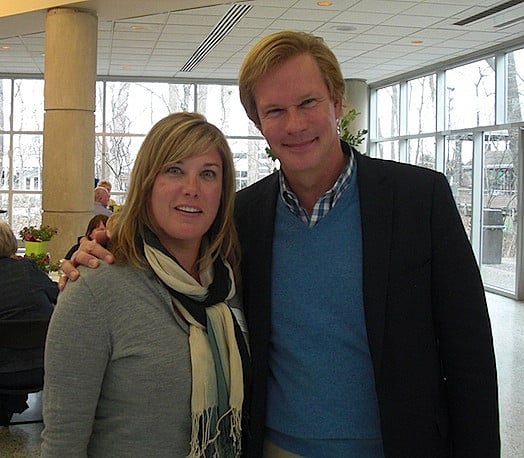 Far be it for me to tell the producers of a successful PBS show how to do their jobs, but I think the people who make "P. Allen Smith's Garden Home" are missing out on a golden opportunity. Turns out the guy is funny. Really funny. And trust me, after watching almost every episode of the show ever made (and several of them more than once—I can tell you every fact you want to know about Daffodil Hill and my single favorite thing on his farm are the moveable chicken coops), I was not expecting P. Diddy (my little pet name for him) to be funny. Charming, knowledgeable and perfectly coifed? Absolutely. Funny? Not so much.
Me and P. Allen Smith (aka P. Diddy). One of us is having a good hair day and the other one is not. Bet you can tell which is which.
I had the pleasure of listening to Allen (you know, as his friends call him, although I'm pretty sure I'm the only one who calls him P. Diddy, not that he's aware of that) at the Proven Winners Outdoor Living Extravaganza in Milwaukee. First of all, you've got to love a garden that you need a helicopter to properly view. That's exactly how Allen's talk started: with helicopter footage of his stunning Arkansas garden home retreat, which is, by the way, completed, even though every time you turn on the television show it is in various stages of construction because PBS seems to play them randomly and without any concern as to chronological order.
Then Allen went into a little history and showed how he bought his first "city" home for $1 and moved it.
"People are always amazed at the difference between the before (a photo of a ramshackle house on a trailer) and the after (a charming little house on an amazingly landscaped lot)," he said. "I always say it's amazing what a coat of paint and $300,000 will do."
Bah, dump, bump.
Allen also told us that he "comes from a long line of mediocre artists," which I loved, because, I just like people who tell it as it is, and whether it be about his hobbies, how he discovered gardening or advice on how you should be gardening, Allen tells it like it is.
Take small-space gardening, for instance. It's a hot topic these days because so many people are living in spaces that are smaller than they'd like. In fact, Melinda Myers, Milwaukee's most famous gardener and a speaker at the event earlier in the day, said that the definition of a small space is any place where you don't have enough room to grow every plant you want to. Allen showed a picture of 12 foot square back patio that the owner was at a loss as to what to do with.
"Well, you're going to leave and leave me a blank check and when you come back you're going to love it," is Allen's answer to the problem.
Bah, dump, bump.
People who whine about not having any place to do a little gardening are just lazy, Allen said. "Just grow something," he admonished.
Allen's biggest gardening lesson isn't something new that any of the 200 gardeners in the audience hadn't heard before, but it's one that an awful lot of us forget pretty routinely.
"Dare to be dull," he said. "You don't need of everything. Next thing you know you have a botanical jungle. What the hell is that?"
Instead repeat. Repeat the same group of plantings. Repeat the color ("color echoes" is the fancy name for it). Repeat the same structures in your garden.
"Do that, and they'll think you're a genius," he said.
Speaking of genius, here's what I'm going to repeat:
Dear PBS/P. Allen Smith television show people,


Please let Allen be Allen. He's just about the funniest gardener I've ever heard. Let him break out of the slightly stuffy PBS mold and throw just a little bit of that humor into the show. Your viewers can handle it. Heck, they probably love that show with the fat ladies on a motorcycle breaking into kitchens and cooking all over England.


Thank you,
Erin
Now, onto a few other highlights from the Outdoor Living Extravaganza:
• Kerry Meyer, who also spoke at last year's event in Chicago, filled us in on some of the exciting new plant introductions on the horizon. If you have gardens in sun or part sun, there was nothing here you wouldn't want. She admitted that PW is always on the lookout for more shade tolerant annuals and perennials, but they are a little sun-heavy in their offerings. Still, some of these are so wonderful you might be tempted to cut down a tree or two just to be able to grow them.
One of the plants I was most excited about is Leucanthemum 'Daisy May' (Shasta daisy). It offers four to six weeks of bloom without deadheading (impossible with any other shasta daisy that I'm aware of) and even longer with deadheading.
• The incomparable Tim Wood (who I'm not stalking) also spoke about his search for new plants. This year he really got into the people behind the plants and I have to say, I think plant breeders sound like some of the most interesting people in the world. So many of them have or had careers outside of the plant business but breed some of the best plants in the world as a hobby gone crazy.
• I got to see 'Little Lime' in the flesh for the first time. She was totally dreamy. I am all over this plant! (I apologize for the fuzzy iPhone photos. I was Tweeting during the event so I was taking everything with my phone so that I could Tweet it right away).
• There were tons of great drawings for fantastic products but even the unlucky ones (like me) who didn't win anything went home with Superbells 'Coralberry Punch' (love it!) and a nice gift bag filled with all kinds of goodies including a Corona trowel.
• I got to meet the vivacious Kylee from the great blog Our Little Acre. (Check out her post from the event here).
• I got to see the cutest little ape baby. That's unrelated, but since the event was held at the Milwaukee County Zoo, during one of the bathroom breaks I walked down the hall to the ape house and saw this adorable little baby hanging on its mom while she swung all over the place. Very cute.
• Many of the new varieties of Proven Winners plants were on display (and available for purchase if you were quick enough) and they were just droolworthy.
Other fun P. Allen Smith facts I know you were dying to know:
• No, he doesn't manage the vast estate at the Garden Home Retreat by himself. His brother and sister-in-law manage the farm and the gardens with a staff of four.
• The Garden Home Retreat is open to the public. Can't say I've ever wanted to go to Arkansas before, but I do now!
• He was not wearing tan pants and a chambray shirt. If you've ever seen his show you know that's all he wears on the show and I half expected him to show up to the event wearing his uniform, but he was looking sharp with a blue blazer and checked shirt (see above photo). I didn't have the guts to ask him what the deal with the gardening uniform was, but I've read before that dressing properly for television can be very difficult and because his show is filmed in segments, I'm guessing he wears the same thing so that the shows appear more seamless even if the segments were filmed at different times.
• He eats his livestock. And he says they are tasty.
• Apparently he's quite the cook too, but you can find out for yourself when his new show "Garden to Table" premieres (later this month, I think).