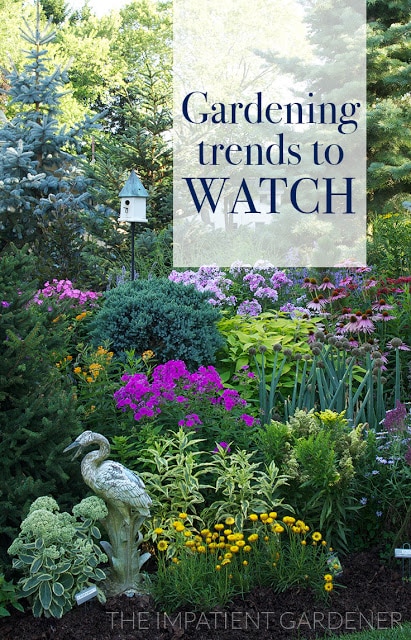 1. POLLINATOR GARDENS
Pollinator-friendly gardens will be hot, hot, hot, and thank goodness for that. Gardeners, both casual and serious have embraced their part in the important fight to promote the health of pollinators. The Perennial Plant Association has even named Ascelpias tuberosa—butterfly weed—its perennial of the year. From home gardens and school gardens to public gardens and even containers, more and more gardens will be planned with an eye toward inviting in pollinators and beneficial insects.
2. SMALL GARDENS
As more and more people choose to rent instead of buy and people find themselves with less time to dedicate (or perhaps less time they choose to dedicate) to home and garden maintenance, gardens continue to get smaller. For some this means a small vegetable patch, for others it's a grouping of containers on a balcony. Vertical gardening will be of interest as gardeners look to pack in more plants in a smaller space. I also think that gardeners are learning about all new ways of gardening that work in 5 square feet or 5 acres.
3. EDIBLE EVERYWHERE
In last year's garden trends predictions, I said that edible gardens would continue to be popular but that they would become more decorative. I'm pretty sure I was wrong and I'm actually going to go the other direction on that this year. I think many gardeners, and particularly people new to gardening, will focus on edible gardening, but the goal will be producing, not necessarily pretty. DIY containers and raised beds will continue to be popular and gardeners will focus more on growing interesting varieties of vegetables and fruit than how they look while they are growing.
4. THE RETURN OF COLOR
This is another departure from my 2016 predictions when I said that white gardens would be hot. I still think there is a population of gardeners who will love all white gardens. But I think these are advanced-level garden design. A good white garden requires a host of design factors, including choosing plants for blooms all season, a variety of greens to compliment white flowers and, perhaps most importantly, the right combination of varied textures.
Pantone's Color of the Year—"Greenery"—is, I think, reflective of a move away from the muted palettes that have dominated home decor in recent years. I feel like there is a pent-up desire for vibrant, although tasteful, color, and new gardens are more likely to reflect that.
5. OUTBUILDINGS ARE COOL
First there was the man room. Now there is the she shed. And before any of that there were a whole bunch of fantastic sheds, writing rooms, greenhouses and other outdoor spaces across the pond, where a lot of garden trends come from. Living spaces are getting smaller (see No. 2 above) but that doesn't mean that people don't crave a private retreat. Slowly but surely I think we're going to see beautiful and more elaborate multipurpose buildings outside the house. These will be far more than a place to hang your shovel or park the mower; they'll be hangouts and zen spaces that can be customized to an individual's specific and uncompromising tastes.
So how did I do last year (check out the original post here)? Let's review.
1. Edible gardens will get prettier: I already addressed this a bit, but I'm going to give myself a grade of C on this one. I didn't see a huge shift in this direction, but I do think the popularity of edible gardens means that more gardeners were looking to do interesting things with edible gardens one way or another.
2. Gardens will get more formal: Looking at new garden designs and perusing sites like Houzz and Pinterest, I'd say this was pretty close to right on. I think they'll fall out of popularity because people who maintain their own gardens will realize formal gardens are an incredible amount of work. Grade: B.
3. White gardens will be hot: I think I a lot of people loved looking at these but not a lot of people took the plunge. Grade: C.
4. Succulents are on their way out: I took a lot of well-deserved heat on this because as several astute readers pointed out, succulents will never go out of style in the places where water conservation and drought are a concern. I don't see people doing as many ridiculous crafty things with them as they once were, but succulents still pop up in bouquets and containers. Grade: D
5. Grasses are back in: Thanks to the prairie style, naturalized plantings popping up in public gardens everywhere and plant breeders introducing all kinds of great new grasses, this one was right on. Grade: A
I think that puts me at about a C+ for last year. Maybe this year will be better.
What garden trends do you think will pop up in 2017? And what garden predictions did you have last year that you were right (or wrong) about? Tell me all about it in the comments.