 Cottage style is very in these days. That cozy, coastal vibe is why entire magazines devoted to the style, not to mention blogs and even furniture lines continue to thrive. In fact, I'm a devotee of the style myself. But anyone who has ever had the chance to stay in a real cottage, I think, has a better understanding of what cottage style is all about. It's a feeling. It's about being lived in and cozy and genuine.
And when you've partially grown up in a place like that it's easy to fall in love with it, as I have of our family cottage. Located on the shores of Lake Michigan, this is where my father, his four sisters and their parents lived during the summer in impossibly small bedrooms and a bathroom the size of a closet (all of which didn't matter because they lived outside). It is where my beloved grandmother summered, where I spent almost every summer day of my childhood, and where my family celebrates every summer holiday. Now owned by an entire generation, it is decorated by committee, which means it's a mishmash of furniture that's been there from the beginning, collected items and things moved from my grandmother's house. Probably no one in the family would claim it is their style, but collectively it incompasses an entire family's style.
We were lucky enough to be able to stay at the cottage during the more destructive phases of our home renovation and it made me appreciate all the little things that I love most about the place. And I realized all those things are the things that have been there since I was kid. None are fancy, but all are genuine. Here's a peek.
It's not uncommon to see life rings and signs used as home decor and I think they're very cool. But they are much cooler and far more special when they are all real. All of the life rings and name plates came off of boats owned by family members.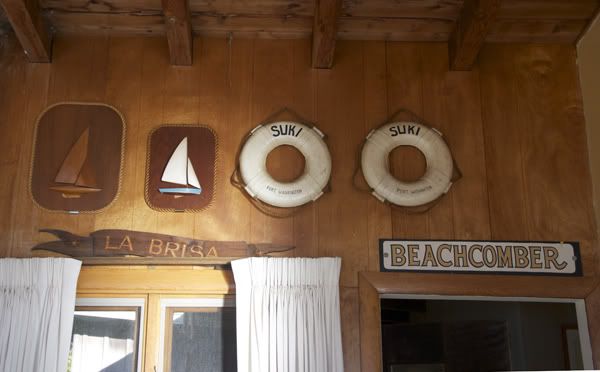 The cottage is very small and cute built-ins are all over the place. I love this built-in bookshelf on the back side of the kitchen wall (the kitchen counter wraps around the wall to make for a perfect place for serving buffet style). The bookshelf is filled with books, some have been there since I was a kid and others have rotated as people read them and bring another to replace it. I'm not sure what the tall cabinet on the left was originally for, perhaps a gun cabinet or maybe for fishing poles, but I like it's current use: driftwood. I'm not keen on the color this wall and the built-ins have recently been painted, but that's what happens when you decorate by committee. Sometimes you like the color, sometimes you don't, and in a few years you'll have an opportunity to paint it a color you like better for the price of the paint and your labor.
This side table is my single most favorite thing in the entire cottage. Someday I'll build myself a side table just like this.
Dinners are eaten family style here, and when we can't all fit at this long table with two long benches, we flow out onto the deck or the floor in front of the fireplace. This table and the two benches are perfectly rustic and original to the cottage. A couple years ago a refinishing incident (I wasn't involved) damaged the table so it was covered with laminate but the bones are still there (and it's super easy to clean).
Can you see what's out the big picture window behind one of the benches? That's the lake right there. There's obviously a better side of the table to sit on!
Of course the best part of any cottage is found outside and that certainly holds true here.
The dogs loved having the beach in their back yard.
And even when the oven had burned dinner again, my feet were freezing (no real heat) and the stress of the renovation had hit a new level, a glass of wine and a sunset like this melted it all away.