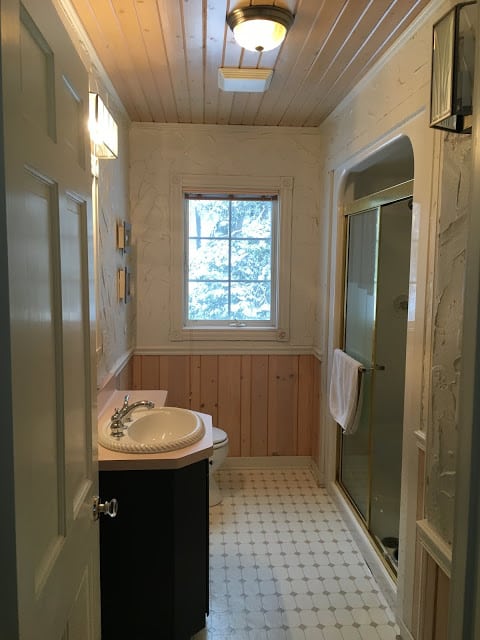 This downstairs bathroom renovation is becoming an interesting project. Little hurdles are popping up—nothing earth-shattering or more than the usual renovation snafus, but odd—but it looks like it's going to happen. Soonish.
Since I've blabbed on about it for a bit now, I thought I'd share with you some of the vision for what the room looks like. You'll notice on the photo below that there are no lights. That's because, just as I was ready to order from an Etsy shop, the store just flat out disappeared. I'm not sure what's going on with that, but maybe I dodged a bullet there. Also, the shower pan showed up on a semi on Tuesday but it was cracked so it had to be sent back. Like I said: Little stuff, but weird.
Just to refresh your memory about what this horrific bathroom looks like, here it is in all its bad early-90s glory. You can probably understand why we declared it "the first room that had to be fixed" when we bought the house 13 years ago. This room has it all: pink countertop (I painted the vanity a couple years ago to improve on the pickled finish), lemon meringue pie wall texture, peeling vinyl flooring, cavelike shower with gold sliding door and, of course, a boob light. Other than the doors, nothing in this room is staying.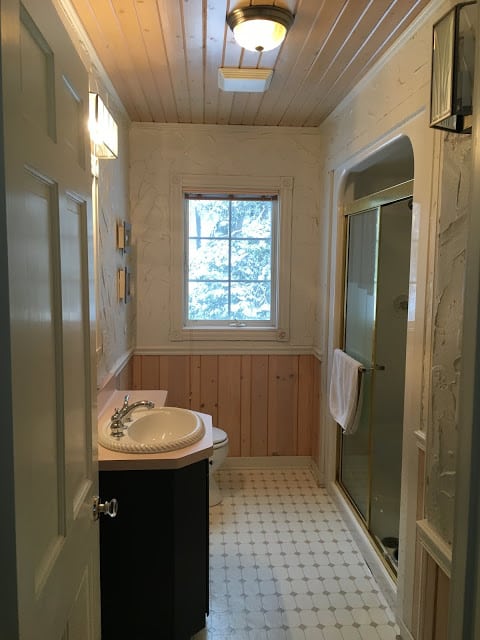 It's certainly not the worst bathroom that has ever existed, but it's up there. I should add that there is a grossness factor as well. That thick wall texture collects dust and what I think is mildew and the wainscoting was never painted. The ceiling is also pickled pink.
Let's not linger on that image for long. Here's the plan.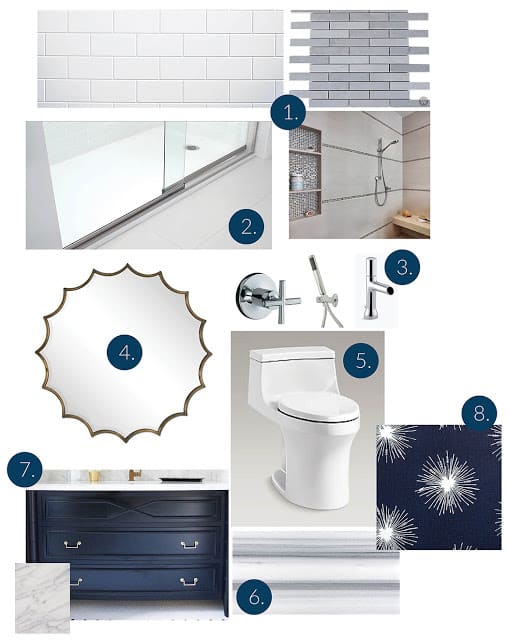 Shower tile plan: I'm keeping it basic and inexpensive with plain 3×6 white subway tile in the shower and as wainscoting around the room. I'll break it up a little by inserting thin gray Bardiglio marble tiles as stripes, similar to the photo of the shower. Finding the marble was difficult because the first two things I picked out were discontinued, but then I found a few sheets at a store in New York who sent them to me. I don't need much because I get 18 linear feet per sheet.
Shower base: I went back and forth on it, but decided to go with an acrylic shower base. This one is filled with resin (or something) so it feels nice and solid. It will save us a little money over a tiled shower floor, but most of all, I just didn't want to deal with cleaning a shower floor. I like that this one has a super low threshold that's only about 1.5 inches tall and the tiled walls go over a flange right up to it.
Although natural brass is de rigueur, I'm just now warming up to it and I'm not entirely convinced I'll still like it in a year or two or 10. Chrome, to me, will always be there. It's not flashy, but it's practical. Also chrome fixtures cost less than other finishes. There will be a regular showerhead and cross-handle valve trim in the shower (because I like cross handles and dammit, I just wanted them), as well as a hand shower, mostly because I don't know how you are supposed to clean a shower without a hand shower. It will also allow me to use it to water plants and maybe wash the occasional dog. Mr. Much More Patient picked out the Toobi faucet, which is diminutive and should fit on our very skinny vanity.
This scalloped mirror is a splurge item, but I feel like it's key to giving some pizazz to an otherwise rather vanilla room.
Yep, it's toilet. Let's not get too excited.
OK, now we're getting to the fun stuff. This is the star of the show as far as I'm concerned. The specific marble I'm getting is called Fluid, but really it's just a name of a marmara marble. We'll do it in a honed 6×18 tile set in a perpendicular herringbone pattern (meaning it will run parallel to the walls rather than at a 45-degree angle). I absolutely love it. My mother absolutely hates it. I told her she'll just have to use the upstairs bathroom.
This is sort of the inspiration vanity for what we're having built. Because we need a really narrow vanity to avoid the bumped-out variety of vanity we currently have in the room, I've designed something that will be long on legs (we have a large linen closet in the bathroom for the majority of storage) and painted navy. It will be topped with a cararra marble top. If you're counting, that's three kinds of marble in one small room, which I'm sure breaks some kind of design rule, but I'm beyond caring.
I'm considering using this fun fabric for a roman shade for the window to bring a little playfulness into the space.
If you are rolling your eyes at the fact that I seem to have designed yet another gray, white and navy room, I can't help it. The heart wants what the heart wants. Plus, the only navy things in the room are the vanity and the roman shade, both of which could easily be changed down the road, and almost any other accent color will go with the rest of the gray and white color scheme in the room.
The shower will be opened up to the ceiling, where the subway tile will run all the way up and over. The rest of the ceiling will be painted wood planks to match the kitchen ceiling and the hallway outside. We might be able to reuse what is there, but we'll relocated the fan to the shower. I haven't decided what the shower door will be yet, but it will be some kind of glass. Although I prefer completely frameless, I'm not sure we have enough room to have a door opening into the room so it may have to be a sliding door.
Lots of decisions left to make, but until the sledgehammer falls, I've got time to figure out the details.