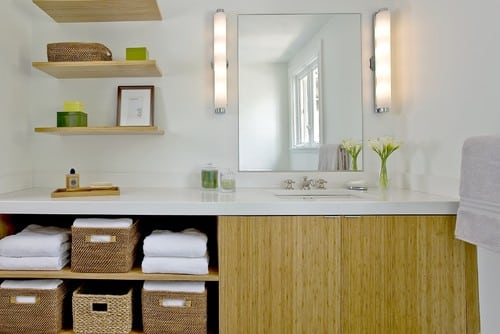 It's probably a sign of the times that I've been flummoxed by a countertop for the bathroom vanity.
We live in a time when you can get almost anything you want, and usually pretty quickly. So perhaps I was being presumptuous when I assumed that the way one went about getting a counter for a vanity (I assumed since I've never purchased a counter for anything before) was to pick out what you like, have them come measure, pay them and ooh and ahh over your new counter.
I just wanted a bathroom that felt like this one from Houzz.com.
Apparently this is not how it works.
Before I get into it all, let me tell you how my mom designed one of the bathrooms in their house when they built it in the 1960s. The tile guy came one day and said "Do you want yellow tile or blue tile?" She said yellow and has been designing around 4-inch yellow tile ever since.
I guess I thought those days were over, but maybe not so much. Here's how the countertop issue has played out:
When I was in the throes of making decisions for this renovation, I started planning the bathroom with a sink. And then I worked on the counter, and believe it or not, the rest came from there.
I went to a local stone countertop place, looked at samples, and got a quote on Caesarstone quartz for our smallish vanity (I need about eight square feet of countertop). I specifically asked if the size of the vanity was a problem and was told, "Nope, you just pick what you like and you pay for what you use. If we have a remnant we'll use that, but if not we'll order what we need." Any maybe answers like that are why that salesperson was no longer there when I went back two months later to refine my decision.
Caesarstone Organic White: I love the "blobs" in this quartz. I've been told they are "particulates" but I prefer blobs. This is what I fell in love with and it's still my favorite, I think (the darker part of the blobs matches the wall tile almost perfectly), but alas, it was not to be.
Since I had picked out a different color of Caesarstone and since it had been two months, I needed a new quote. Since the vanity was already installed I also needed them to come measure, the sooner the better. I never did get the quote. In fact I was expecting them to come measure that day when I got a voice mail at work informing me they wouldn't be coming to measure because my job was "too small for them." I was welcome to come choose from their remnant pieces but they would not bring anything into stock for me.
I figured this place must be off their rocker so started calling other stone places and got similar answers. Some would sell to me, but because they didn't have a smaller piece of the color I wanted ("Organic White") I'd have to buy a half slab for $1,600 or so. Before fabrication. At some point we'd like to replace the kitchen counters so maybe I could just use the rest of the half-slab for that. "Oh no. You pay for the slab but you only get what you use."
Say what? So I pay for a huge chunk of quartz and you get to keep what I pay for, meanwhile I'm paying more than $200 a square foot for my vanity counter? Oh sure. Makes perfect sense.
Obviously, that's not going to do. Even if we weren't already horribly over budget (which we are) on this project, there's no way I could justify that kind of money for any countertop, no matter how badly I wanted it. I finally called an area stone yard to inquire about remnants. They, in turn, told me they are a wholesaler, but hooked me up with a very nice guy who they work with (as far as I can tell, he's nothing but a middle man. I've talked to him on the phone, send him the money, but the wholesale fabricator does everything else from the measuring to the counter, to cutting it, to installing it). After that I went out to the stone yard to look at remnants. Unfortunately they didn't have what I really had my heart set on, but I found several other options. In the end I narrowed it down to two colors of quartz that I never would have considered otherwise.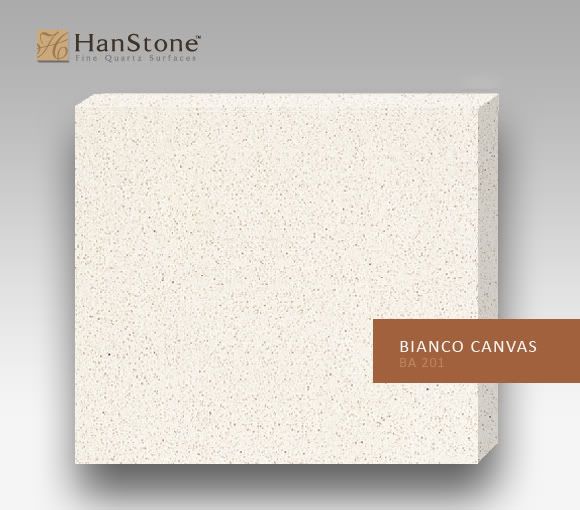 Option 1 of the remnants (Hanstone Biano Canvas). It's amazing to me that even though Quartz is manmade (well it's mushed up bits of quartz mixed by a human with resin so sort of half manmade, half Mother Nature made), that slabs can vary so much. The actual slab we looked it was exactly the color of the wall tile, but far smoother in texture than this photo shoes.
Remnant option 2 (Hanstone Ruscello Aspen). The texture is about right on this one, but the remnant we looked at had very little or none of the brownish color that is coming through. It was sort of a warm gray, that just happens to be the color of our floor tile.
In the end, I decided that I needed some texture as almost everything else in the bathroom is very smooth and solid. So I'm going in a direction that I never expected to: quartz that (sort of) looks like marble, but I never realized it looked like marble until someone mentioned it looked like marble.
Whatever. They are coming to measure on Monday. It's time to get this show on the road.
Still, I'm starting to think that maybe "yellow tile or blue tile" wasn't such a bad way to design a bathroom after all.