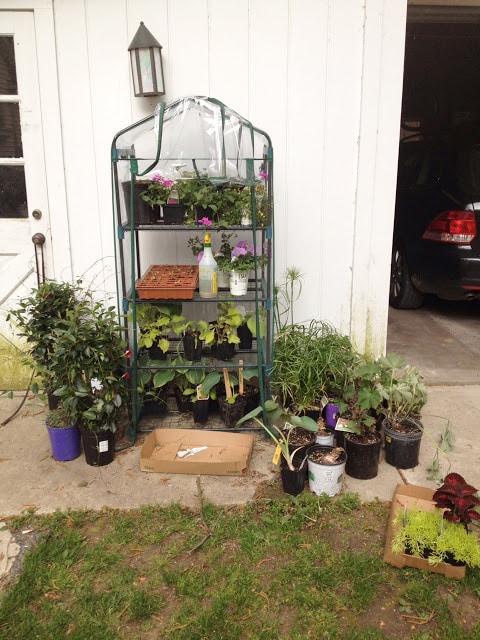 The garden is a demanding mistress this time of year. Despite our early spring when I thought I had a head start on gardening projects, I feel I'm behind again. The beds still need to be edged, plants moved, plants planted and, of course, weeding, weeding, weeding. Daffodils are fading and need to be tied into little packages so I can tolerate letting the foliage stand for awhile. The Virginia blue bells have all flopped and need to be removed.
My goal is still to have things more or less in control by the second week of June so that the rest of the summer can be managed with just a bit of gardening here and there. The past week has been a brutal schedule of going to work in the morning, coming home at 6, gardening until 8, eating dinner hopefully by 8:30 or so, then passing out. I always intend to take a day or two off from work during May to get ahead in the garden, but that can be a challenge since our deadline gets tighter with Memorial Day in the mix and I already take a day off to help set up our master gardener plant sale.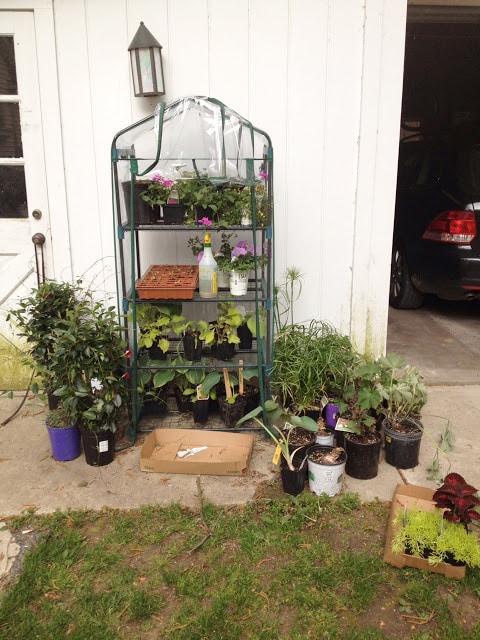 The mini greenhouse is overflowing with new hostas, annuals waiting to be put in containers, pots of perennials for the master gardener plant sale and a tray of sprouting seeds.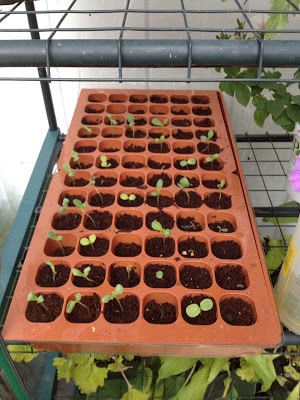 I thought I had an early start on some zinnias, but now it's looking like they may be the last to the party.
Although I've not potted any containers up (until this week it wasn't reliably warm enough to put annuals outside), I've been buying annuals and keeping them in my mini greenhouse because I'm afraid the good stuff will be gone by the time I get around to planting.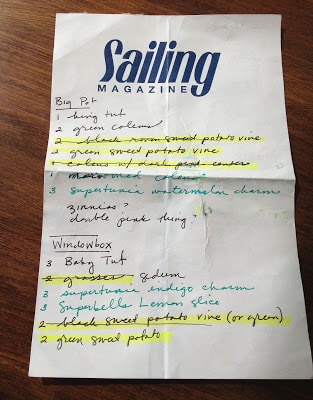 I've taken a more systematic approach to my containers this year. I take more joy in designing my containers than I do in almost any other part of gardening but some years I get so enamored with all the different combinations I can make that I buy plants willy nilly and end up with extras that I just stick in the ground. This year I made a list of what I intend to put in each container and have been carrying it around with me to every nursery I go to.
Where I've come against a brick wall, however, is in the containers themselves. I'd like to add a couple pots to the deck this year, with mandevilla to vine up the posts for the pergola. I want pots that are tall enough that they don't jump out and grab someone's leg, big enough to plant a few things along with the mandevilla (licorice plant, a small grass and a hot pink Superbena, according to my well-worth container list), and be relatively contemporary in style. I also have to be mindful of the weight because they are going on an elevated deck. It seems that local nurseries are only stocking glazed ceramic pots these days which are heavy and require more care than feel like giving. Fiberglass and other similar materials seem to be called for but I am astonished by the prices these things go for. Pretty soon I'll have to bite the bullet and just pony up the money for something because it's high time to get planting.
And then, it's back to weeding.