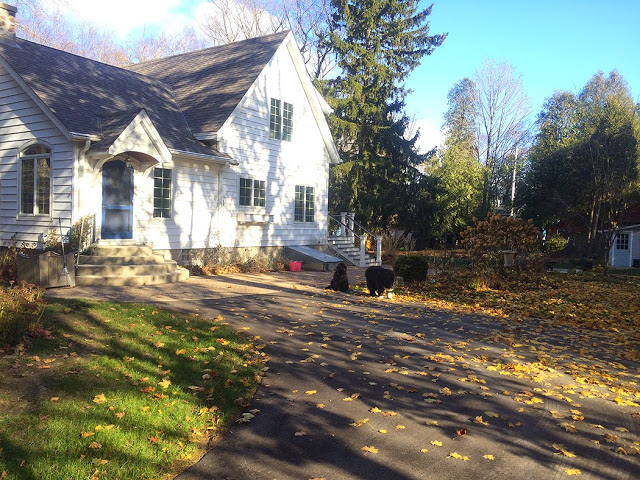 A few weeks ago I told you that I was
contemplating adding some fence panels
along a portion of our driveway. I'm still very much in favor of that happening, especially since the house next door recently sold. We don't know what the situation with the new neighbors will be, but odds are they will be around much more than our previous neighbors.
The other idea I've been tossing around in my head for several months now is something to dress up the driveway. You might recall that I was hesitant to have the gravel driveway paved. I looked into the cost of lining it with cobblestones or some kind of decorative edging but that was very expensive. As many of you predicted, I already love the paved driveway and I can't believe we waited 12 years to do it.
But it is a bit blasé. My mind usually goes to plants when I start thinking about how to spruce up an outdoor space and that's where I landed with this quandry as well. But whatever happens next to the driveway needs to be tough as nails. We get a lot of snow and ice in winter and plow the driveway, which pushes the snow well off of the driveway. There is no planting that will stand up to being driven over or plowed in winter that I'm aware of.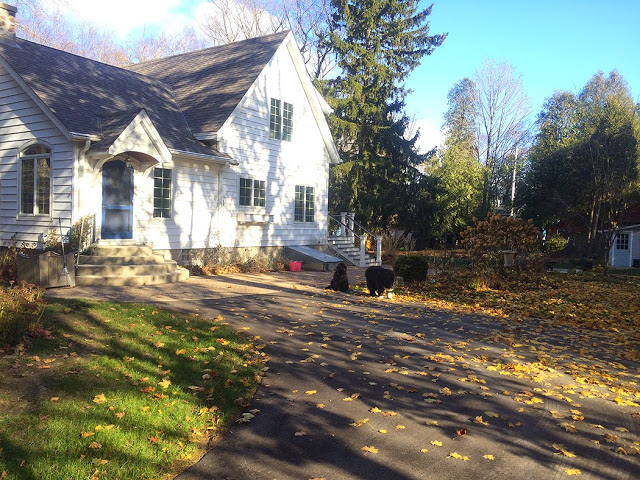 See what I mean? It's a little boring, right?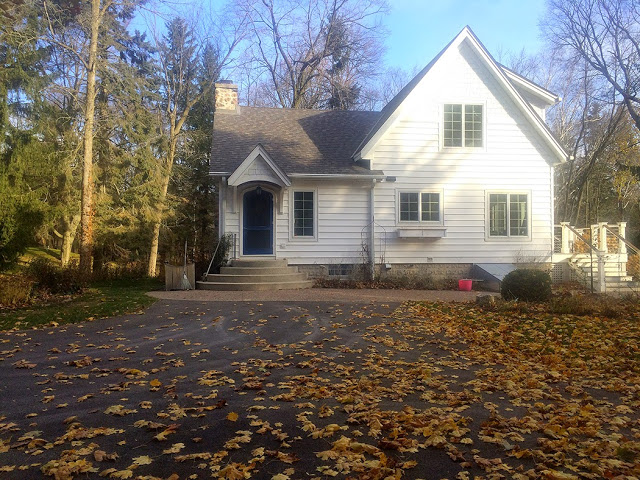 Snoozefest … especially now that all the containers are empty.
More and more I've been craving symmetry in the garden. There is no one more shocked by this revelation than I am, I assure you. But what I love about our house and yard is that is casual and comfortable so formal symmetry has no business here.
And that got me thinking about a line of planters on either side of the apron, which also serves as the approach to our front door. At first I thought pleached trees (think of free-standing espalier where all the branches grow into one another to create a living, raised wall), but that won't work for winter. But cute little lollipop trees absolutely would work.
So imagine this: three large planters on either side of the apron, situated across from each other (possibly set in an alley of small riverstones or something to avoid having to mow between them, but that's up for debate). In each planter, a short tree with very densely packed foliage, preferably something that turns color in fall. I'm not thinking of anything that approaches topiary territory, for as much I like that look in some circumstances, that would never work in my yard. Rather, I'm envisioning something with a mostly round habit but a bit more free-form than a topiary ball.
I did a couple bad Photoshop mock-ups to better explain what I'm thinking of. Both are a bit out of context since the photos were taken in fall, but hopefully they'll give you an idea of what I'm contemplating.
Here's one with very formal topiaries and I think you can see what I mean when I say that's not right. Ideally I'd like the canopies of these trees to almost touch when they have grown for a few years.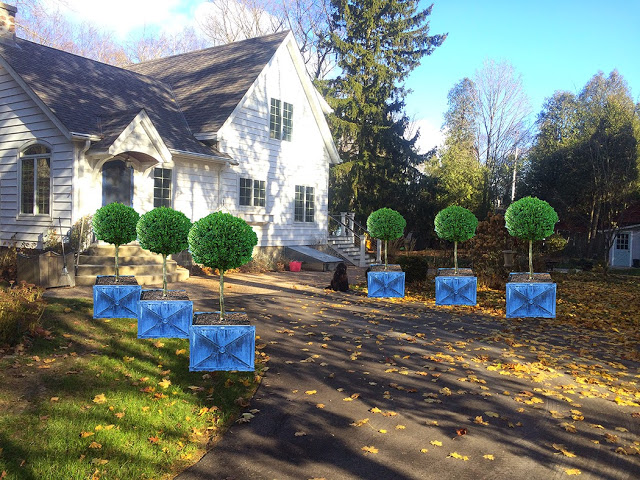 Here's another with the tree concept a little better represented (although I would want more trunk) with terra cotta pots that don't work at all and are rather distracting.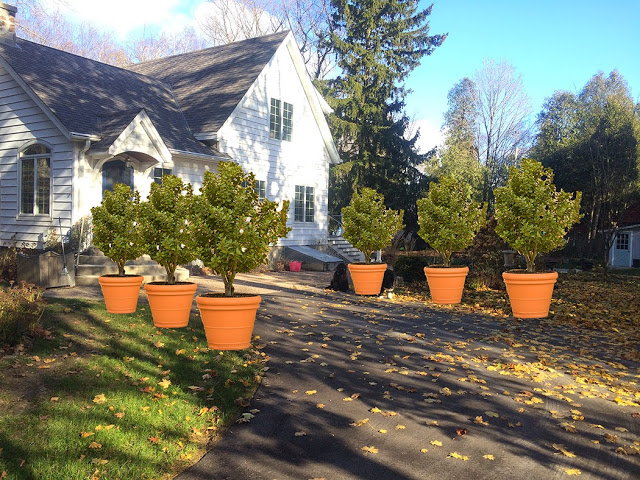 There are obstacles to this plan, which is why it's been rolling around in my head for several months with no action on my part. Six large planters are expensive. And I guess I've proven that we could build them, but honestly, I don't want to spend all winter building them when I know someone else could bang them out in a weekend. I'd probably call on Ryan who built our kitchen cabinets and the built-in in our bedroom for this project. I'd also have to solve the planter liner issue, because the steel box in the planter we built was a huge unexpected expense. I imagine staining the planters a soft gray, similar to the color of our deck underskirting.
I've contacted a local nursery about suggestions for a tree that might work and they very nicely came up with several suggestions, the most interesting of which is a small cultivar of hornbeam that would be appropriate for pollarding, which is what they suggest for the look I'm going for.
Caring for the trees would be no easy task. Obviously they have to be watered and tended to regularly. They would need feeding as well (something you don't have to worry about with a tree planted in the ground). Every three to five years I would have to root prune them, meaning they would have to be completely removed from their containers while dormant, cleaned of all their soil and pruned at the roots, similar to what you do with bonsai.
And in fall, they would be moved, containers and all, to the backside of the garage where they could winter in a sheltered area free from the ravages of the plow.
It's an expensive and arduous proposition, but I feel like it could completely change the feel of the yard and the entry to our house.
No decisions have to be made yet, but obviously if I'm going to do it, the sooner I can get Ryan working on the planters, the better. In the meantime, I'm just letting that idea marinate a bit.
I have a Pinterest board dedicated to this concept so if you're interested in a little inspiration, check it out here.