 It's been awhile since I've posted one of these, and that's mostly because things were moving quickly there for awhile. Sadly, that pace seems to have slowed and now it seems like every little thing is taking forever and a day.
Anyway, here's where we were as of about a week ago.
Everything was insulated (about four inches of spray foam followed by the roll-type insulation).
We were fortunate that they were able to go through the paneling wall in the living room to get the plumbing up to the new bathroom, meaning that the existing bathroom was untouched during the process. Thank goodness. I don't think I could have handled one more destroyed room. Especially such an important one.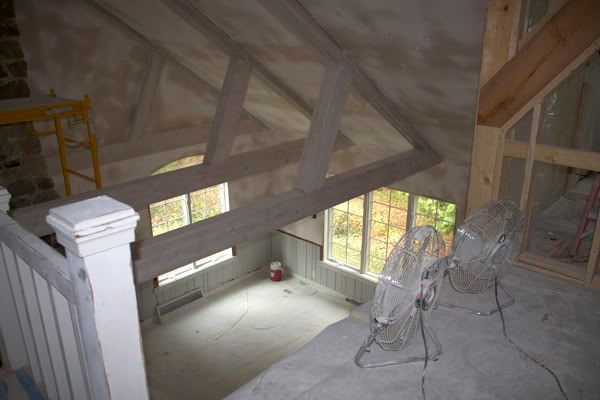 Drywall went up! That was a great day. It was so good to see things closed in. The drywall crew was there for over a week putting it up, taping and mudding, applying texture and then priming. We decided on a very, very light texture that was troweled on, sort of a plaster type look. I really wanted smooth walls but the drywall guy suggested that since our ceiling still wasn't perfectly straight/flat, we might want a little texture to help hide that. I love what we ended up going with. If anything we could have used a touch more texture, but this is great too.
That's the drywall in the master bedroom. The walls look sort of brown because the the texture was still wet in these photos. It took two days for that stuff to dry before they could prime.
All of that drywall work left a ton of dust behind, most of which settled on our fireplace. The dust is (and it's still there, a week later) a quarter-inch deep in some places. Supposedly they are cleaning that up today.
If you've been following on Facebook, you'll know that I've been painting. Non-stop. All the time. I'm either working, sleeping or painting these days. I sanded the whole railing on the stairs. Not only did it need some smoothing out, but the woodwork in the house is all oil-based paint and I wanted to take the time now to switch to water-based, so I'm sanding everything, priming with an appropriate primer, and then I'll follow with two coats of a water-based paint (I like Benjamin Moore's Aura when it's in the budget). Here's the staircase looking pretty rough:
There's primer on it now, but I don't really want to get to finish painting until they are done with a lot of the up and down. I'd be sad if my new paint job got all dinged up right away.
If you want to follow the progress of the remodel, here are some old posts:
Construction Update 1
Construction Update 2
Construction Update 3
Construction Update 4
Construction Update 5
Construction Update 6
Construction Update 7
Construction Update 7.5
Construction Update 8