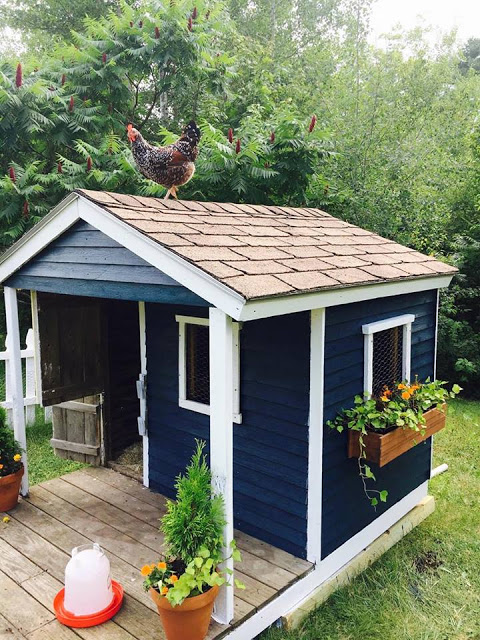 It's no secret that I covet chickens. For various reasons, they've been a non-starter with Mr. Much More Patient, so I enjoy chickens vicariously through friends who have them. And I'm not going to lie here, one of the main reasons that I want chickens is because I want a super cute chicken coop.
My friend Roisin has created the MOST adorable coop, which means I'm not only envious of her beautiful fresh eggs and her cute chickens, but also her coop, which I've threatened to move into.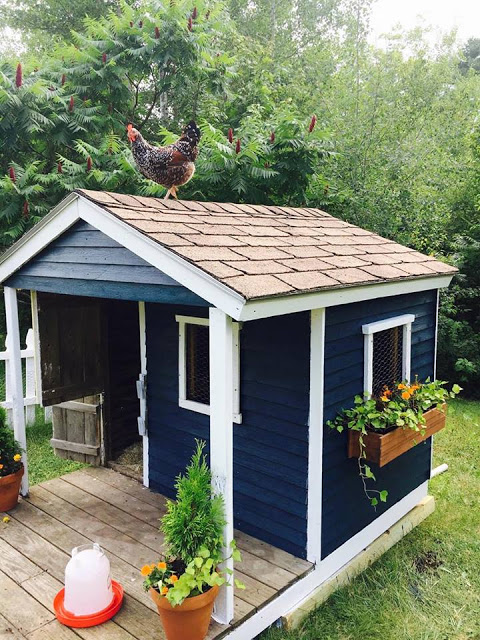 The Speckled Sussex chicken getting a prime view at the top of the coop just happens to be named Erin. 🙂
You won't believe what this coop looked like originally though.
Roisin rescued it from a friend who was no longer using it, and it lived on the edge of her property for a time until she had time to renovate. She removed the railings, cleaned up the inside and gave it the prettiest new paint job in Sherwin Williams Archipelago with a Valspar Summer Wish door.
Roisin is also an amazing gardener and let's be honest, the planting opportunities on this cute coop were way too good to pass up. But what Roisin has learned this summer—her first with her girls—is that not all plants work with chickens around. Some plants are definitely on the chicken menu. Others are just libel to fall victim to digging and scratching. Containers are likely to have a chicken end up in them, if only so they can check it out, she said.
Chickens are also very interested in anything colorful, so all new flowers plants seem to get a thorough chicken inspection, Roisin said.
Hostas and petunias fell prey to the chickens rather quickly so Roisin learned that those need to either planted somewhere the chickens don't go or caged for protection. Tulips were also deadheaded by the chickens before they needed to be. But after some trial and error she's found a few plants that seem to be of little interest to the flock.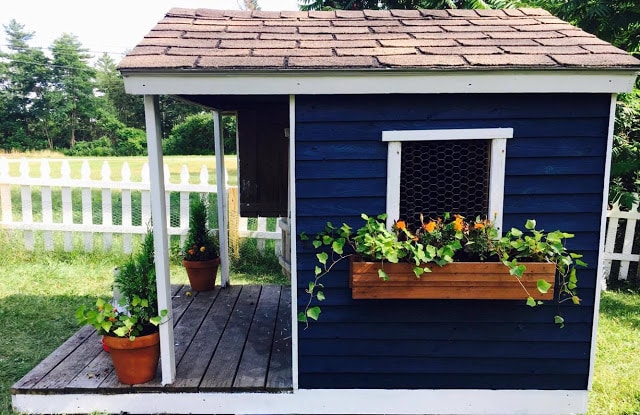 I want a chicken coop just for that window box.
Here's Roisin's list of chicken-resistant plants that she's found so far. (Roisin notes that her research suggests all flocks have different tastes, but these plants have worked for her.):
Echinacea
Salvia
Arborvitae
Ivy
Zinnia
Yarrow
Roses
Marigolds (although the chickens did scratch a few up out of pots)
The chickens, it seems are happy with the new coop (although it took some getting used to). Here are some of the presents they left.
Lucky chickens also have a great guardian, Roisin's Newfoundland Gunner, who take great care of the girls and has made it his mission to make sure they are a happy, egg-laying bunch.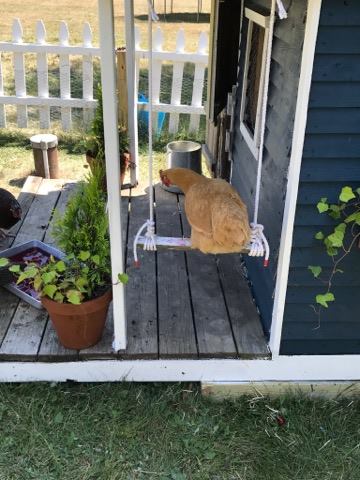 The girls even got a little swing in a recent addition.
What chicken wouldn't want to live here?
I love to see reader's gardening projects and even more so if they involve chickens! Hope you enjoyed this peek at the most charming chicken coop.