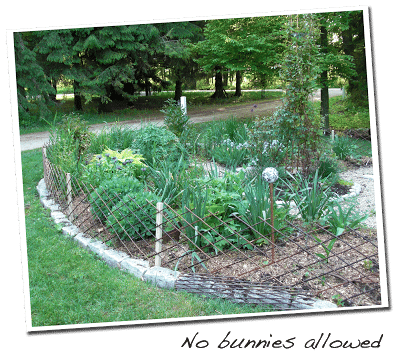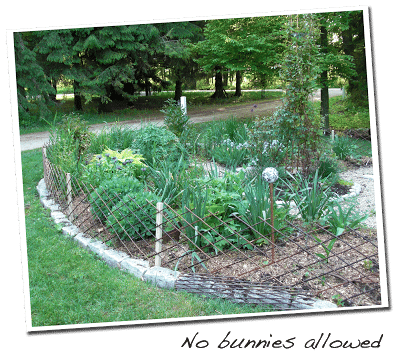 In the past, I've put a few yummier plants in the circle garden, at least if you ask the local wildlife. A few years ago I put up a willow fence, which deterred the critters of the hopping variety. Of course rabbits like to chew, so eventually, the willow got very brittle and the bunnies figured out it wouldn't take long to chew a hole through it. I decided it was time to replace the fence when I had more chicken wire patches than actual fence left. I also made a big mistake the first time I put it up, which is that I set it outside the stone edging, which meant it was impossible to trim the edges and I had grass long enough to qualify for the Guinness Book of World Records growing in some spots.
The willow fencing is really hard to find. The Internet company I bought the first fence from is still in business but I had such an awful experience with them that I swore I'd never go back, and I didn't. The new fence, purchased from Drs. Foster & Smith (which I thought was only pet supplies, but turns out they sell pond supplies as well and I guess this fence falls in that category), has holes that are a little bigger than I'd prefer. They are certainly big enough that a baby bunny would have no problem getting through them. But it will do.
I'm not under any illusion that this fence will keep a determined rabbit at bay, but what I hope to do is make them think, "Nah, it's not worth the effort," and move on to nibble elsewhere. Plus, it was relatively inexpensive (vs. a metal option) and, other than the "posts," which I really should have stained to match the fencing, I think it's actually sort of charming looking. We're making a door for entry to the pea gravel paths as well.