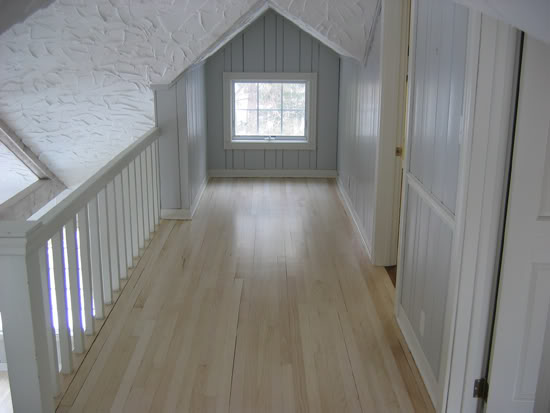 First of all, sorry for the radio silence last week. Deadlines at my real job got crazy and when I'm writing fast and furiously for work, it's so hard to come home and put together a couple sentences for the blog. The good news is that I have some exciting posts planned for this week, starting with this one, which is the first official reveal from the big renovation.
And it's a big one. Adding a bathroom to our house is something we've wanted to do since we bought it nine years ago. I definitely got "into" the design of this room more than anything else in the renovation. It's probably the only bathroom I'll ever build from scratch, so I wanted to really go for it.
The room is only 8 feet square but I can't think of anything else we would need in there. At 5 feet by 40 inches, the shower is probably bigger than it needs to be but it really is luxurious. A little bonus is that there is a perfect bird's eye view of the bird feeders from the shower. I know it sounds corny but I love watching the birds during one of their prime feeding times.
Anyway, on to the photos (which aren't great because I don't own a wide angle lens).
This is what the space looked like before. It was nothing but a useless dormer area with a low ceiling that few normal-sized people could even walk into.
And here it is now. Welcome to the new bathroom.
The door was actually salvaged from my grandmother's house before it was torn down. It was her bedroom door. Originally I grabbed it because I figured we'd save some money reusing a door, but as I started refinishing it, stripping and sanding off layers of tan, coral, mint green and white paint, I became very connected to the history of it. I loved imagining all those colors in a house I loved so much. The door ended up being too short and our contractor had to add a couple inches to the top and bottom. We also had to buy a whole new lock set for it (which was difficult because modern doors have different back sets). In the end, I'm sure we didn't save any money over buying a new door, but it was money well spent to have a piece of my family's history as a permanent fixture in our home. We used Wallpaper for Windows frosted film to cover the windows to allow light to still enter the hallway but still allow for privacy.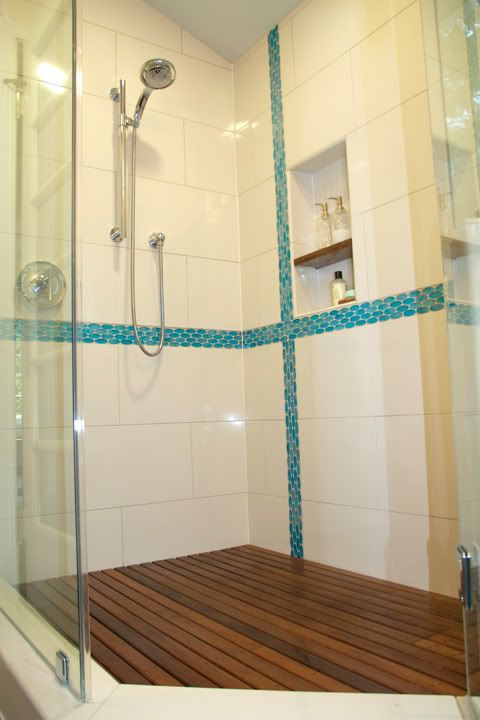 The teak floor was a splurge, but I love it. We bartered for it to keep the price down and the feel under your feet can't be beat.
I'm very happy with the decision to go with a handshower and slide bar instead of a fixed showerhead. First of all, I love the Kohler Flipside handshower. It has the most amazing "soft" spray that I liken to the spot-free rinse at the car wash and I love rinsing my hair with it. Secondly, Mr. Much More Patient is significantly taller than me (like more than a foot taller than me) so the slide bar helps us each have the water where we like it.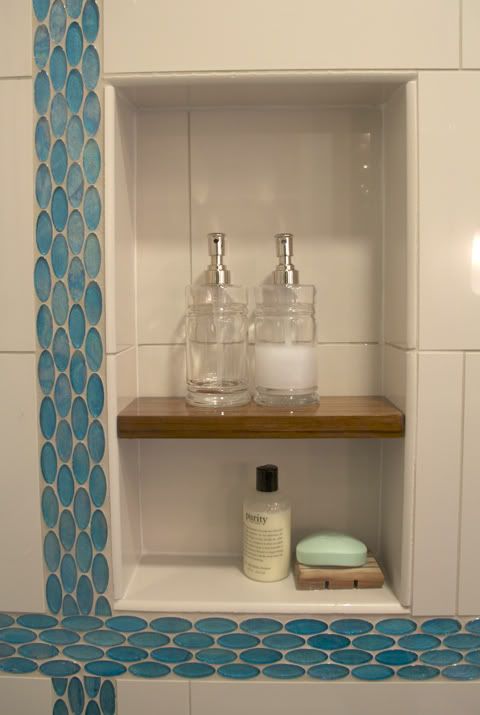 We used a scrap piece of teak that Mr. Much More Patient found at a hardware store in Miami. Fancy hardware stores down there, I guess.
The small window behind the toilet is a favorite touch. I'll do anything for more natural light.
The towel warmer is another splurge and so worth it. I love that thing. Get one. It will change your life.
Here are a few specifics in case you're interested.
Tile: Floors are light gray porcelain tile 24×6. They started out as 24×12 and my amazing tile guy split them all. They are laid in a 1/3 offset pattern. Walls (to the ceiling in the shower and halfway up elsewhere) are off-white polished porcelain with oval glass accent tiles.
Fixtures: Mostly Kohler. The sink (which I think is the very first thing I picked out for the room) is Archer. The faucet is Margeaux.
Toilet: Toto Carolina II. Love it, if it's possible to love a toilet.
Vanity: You can read more about the saga of the vanity here, but it was custom built more or less to my design.
Lights: Ceiling light was purchased locally. Vanity pendants are Sonneman and purchased at Lumens.com.
Counter: Hanstone Ruscello Aspen. These weren't without some drama either.
Mirror: Pottery Barn Kensington
Towel warmer: Runtal Neptune
Colors: Walls: BM Gray Mist; ceiling: BM Healing Aloe; trim: BM Cloud White
If you're interested in seeing how we got to this point, check out these posts on the remodel: