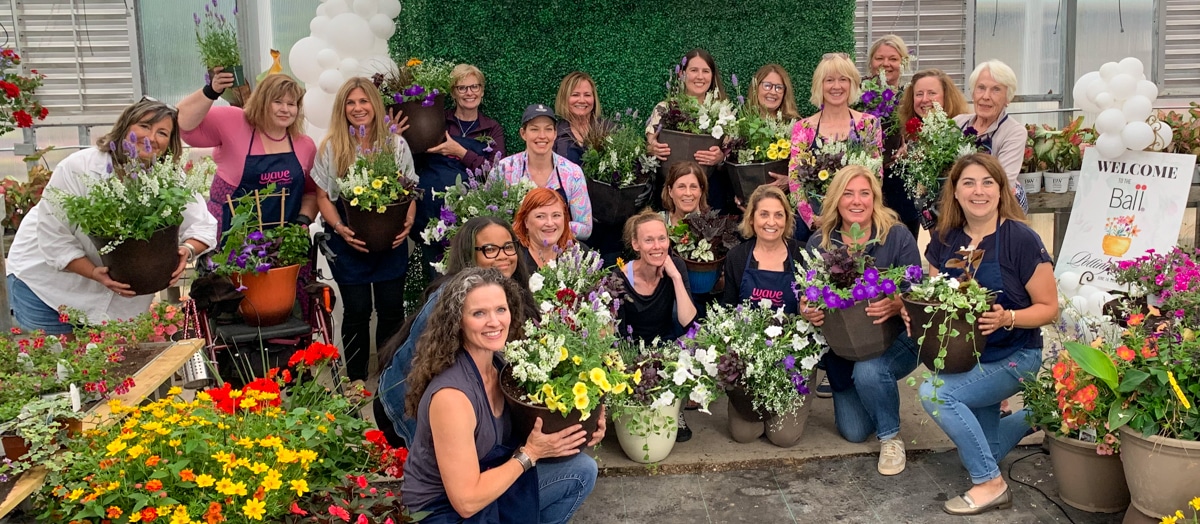 This post is done in partnership with Ball Horticultural, which not only produces amazing plants, but also throws a mean party. Thank you so much to Ball for a fabulous night.
If you ever wondered how many container combinations could be made with a dozen or so plant options, I can offer an answer: Way more than you might think.
It's an interesting insight into how gardeners' tastes vary and how what we do with plants will always be specific to our own tastes and preferences. 
I had the opportunity to "research" the topic of container gardening recently when Ball Horticultural (family-owned, woman-run, international horticultural company responsible for some of the gardening brands you know well like Wave Gardening, Beacon Impatiens, Burpee Home Gardens and more) asked me to invite some of my local gardening followers for a potting party. Basically, they threw a gardeners' dream party for a bunch of plant nuts.
There was tasty food, a fabulous cucumber-watermelon mojito (or a mocktail version) and friendly folks all around, but the highlight was the chance to dig into the load of plants, including some new releases for next year, and have every guest create their own dream container. 
THE PLANTS
The Ball team brought an a great selection of plants for partiers to choose from, with a focus on plants featuring the Pantone Color of the Year Viva Magenta, such as Sombrero Poco Hot Pink Echinacea from Darwin Perennials, or the plants that are easy on your pocketbook and will last the whole summer, such as Hula Begonia from PanAmerican Seed. The Jurassic Rex begonias were absolutely stunning, and, as the Ball team pointed out, make great houseplants that are more interesting than your average green plant. 
Party-goers were welcome to pick a pot from a selection provided by Heyden's Gardens, the local garden center where the event was held, and then "shop" the racks of plants provided by Ball. It was so interesting to see what people gravitated toward.
There were some plants that emerged as clear favorites. Angelonia Alonia Big Snow, a stout little upright number, seemed to end up in many container, as did 'Blue Spear' lavender'Blue Spear' lavender. One table of partiers all used both of these plants in their containers and then went different directions for other accent plants. Some went with a  mostly white look, adding in Easy Wave White petunia, which maintains a nice, neat habit. Others went for the classic combination of white, blue and yellow by adding in Bee's Knees Petunia, a fabulous soft yellow Petunia that is also an All-America Selections winner.
Shade containers were equally creative and varied, but many featured the absolutely spectacular Jurassic Rex Begonia series, which I fell in love with last year after I saw them at the Gardens at Ball display gardens in West Chicago, Illinois. They are certainly substantial enough to fill a container on their own, but some gardeners at the potting party added in Hula Begonia (which I grew last year and also gets quite sizable) or Beacon Impatiens, which are downy mildew resistant Impatiens walleriana, which, until Beacons came along, made the plant inappropriate for growing in many areas because the non-Beacon version could, and often was, wiped out in a matter of days when affected by the disease.  
And then there were others who went a completely different direction. One gardener created an edible container featuring Quick Snack cucumber, a 2024 introduction for the Kitchen Minis line of potted vegetables appropriate for growing indoors or in small areas. She added in Everleaf Thai Towers basil (a sister to my very favorite must-grow basil Everleaf Emerald Towers) and an Easy Wave petunia for a bit of color.
IT'S A PARTY!
Ball knows how to throw a party, so there was a fabulous spread of delicious bites, but also a refreshing watermelon cucumber mojito (here's a similar recipe if you want to try it), poured out of a watering can, in keeping with the theme.
But what was even better was watching a group of gardeners, most of whom didn't know each other, just enjoy creating something with plants together. And boy did they create. Check out their designs.
CONTAINER OBSERVATIONS
Studying all these container designs was so interesting and I left with a great appreciation for how certain plants could really shine in their role in a container. A few notable observations:
THE PARTY'S NOT OVER
Needless to say an excellent time was had by all and I've never seen people leave a party happier than when they walked out with their fabulous containers. Many party-goers have great gardening Instagram accounts and will hopefully be showing how their containers look as they grow on. Follow the hashtag #ballpottingparty on Instagram so you can catch the updates.
I think I've found the perfect party theme. Gardening together with new and old friends is a true joy. Thanks, Ball Horticultural, for bringing people together through plants and the occasional party.