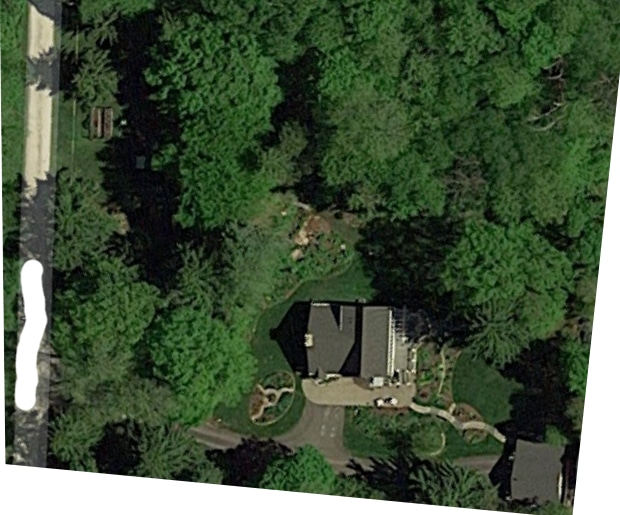 A couple weeks ago, I wrote about a few
things you can do in your garden
in fall to set yourself up for a great gardening year ahead. I accidentally came across another one: check out the sky-view of your garden to look for potential improvements.
While looking up something else on Google Earth, I zoomed up to our house and noticed that the picture had been updated since I last looked. I think it was taken early this summer.
Of course, since it was taken in what I think is early summer, the trees are blocking a lot of the view, but there are a few interesting notes. First, I love that you can see the "stripes" in the path to the garage even from space. (I used bluestone that I reclaimed from my grandmother's house for parts of the path and flagstone for the rest.)
But there is one glaring issue that is driving me nuts. Do you see it?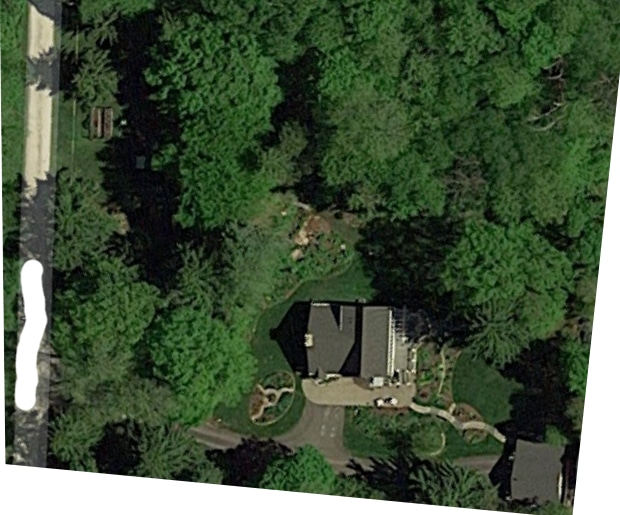 Check out the garden to the north of the house. Do you see that annoyingly randomly curved edge? This harkens back to an earlier time in my gardening life, when I compulsively created new gardens on a whim without a lot of thought as to what purpose they might serve or what they should look like. And back then, curvy was interesting, regardless of whether those curves served a purpose.
In case you aren't seeing what I'm talking about, I drew it in on photo below (in the middle).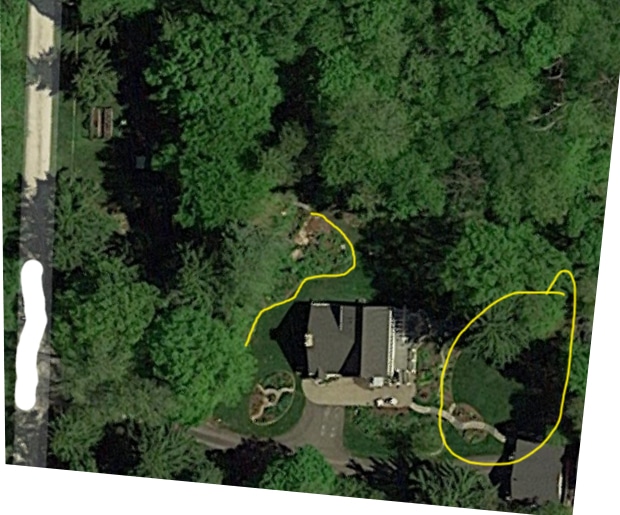 To be clear, I'm not against curvy garden beds. It's just that I've learned that curves have to have purpose, like around a show-stopper shrub or tree, or as part of a larger, bolder statement. Compare the random curves on the garden to the north with the back/side garden. Although you can't see the whole yard because of the foliage cover and shadows, you can tell that the bold edge creates an oval of grass. The grass is the positive space rather than the negative space, which is the opposite of what is going on in the other bed.
Thanks to Google Earth, I know I need to deal with the shape of that bed. I'm not entirely sure what to do, and creating more room in the garden is probably not the answer (yes, I've gotten to a point where I realize that I need to keep my gardening space to a reasonable amount). I may even do something to break up that really large area on the right side of that garden. It is an insanely deep bed struggling for some identity. The good news, I've got a lot of winter to think about it.