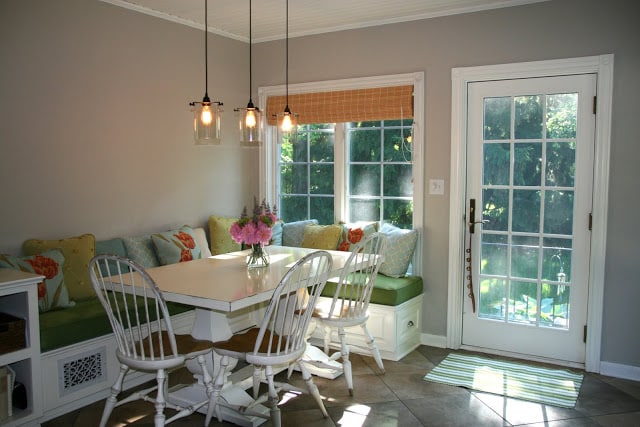 Anybody who has read this blog for long knows that I'm a creature of habit. Even if you lived in a bubble with no exposure to the outside world you would know just from reading this blog (and what kind of a sad state of affairs would that be?) what season it is. As you well know, I get obsessive about garden design and new plants in about March. By May I'm obsessed with garden tasks. And right around the end of August, I start thinking about the inside of the house and DIY projects start flying around by September.
I also find that I go on biannual binges. About every other year I create a new garden bed even though I have more than enough work to do in the garden with the existing beds. The same goes for projects inside the house. I didn't do a lot of work inside last fall and winter because I was completely burned out from all the painting I did during the renovation. Which means we're due for a good dose of DIY.
I'm also a list maker, but one thing you should know about me is that I never, ever cross off all the tasks on a list. I'm not sure if it's because my lists are too ambitious or if I'm too lazy or if I just perpetually underestimate how much time everything takes and how much energy and money I'll have to do them.
Here are a few of the projects I hope to tackle over the next several months when the Wisconsin winter forces me to step away from the garden.
• Paint the kitchen chairs. I'm going to give Annie Sloan's Chalk Paint a try on these. People are absolutely raving about this stuff and you know I'm always looking for the next best thing. The Windsor chairs in the kitchen came with the house and I kept the when we replaced the kitchen table, but they've always been a bit too distressed for my taste and just a tad boring.
• If painting the chairs works out, I may repaint the kitchen table using chalk paint as well. I've never really been happy with how the finish on the table turned out. Even though it swore it was non-yellowing, the Polycrylic did indeed yellow the white paint and that has always bugged me. I will say I'm very happy with how durable it's been though. I got a lot of magenta ink (from a printing press; I hauled it on a box that had been stranded in the pressroom at work) on the table and a good dose of 409 got it off.
• Get some art on that damn empty wall in the kitchen! That is driving me nuts. The good news is that thanks to my good friend Roisin (who I owe a great debt of gratitude to for keeping me sane through the renovation), I'm so much closer and hope to have this item checked off the list in grand fashion very soon.
• Finally redoing the cane chairs. I've been dying to get at these chairs that I picked up through Craig's List at least a year ago (it might have been two years ago now). I'm very excited to try my hand at upholstering and really excited to get these in the back room. I'm hoping it will involve this amazing fabric. Oh, I know, apparently I'm the last person in the world to discover Schumacher's Chiang Mai Dragon fabric and I just read a blog post yesterday that said it was "overdone" but I don't give a rip. I'm in love. The question is whether it is a good idea to buy insanely expensive fabric for your first upholstery project. The answer, of course, is no, but I'm so in love with this fabric that I don't think I can be realistic about it anymore.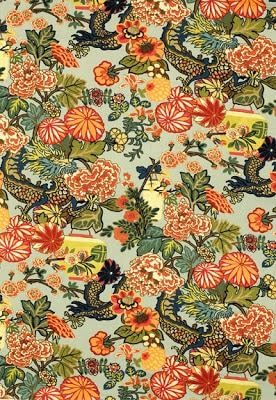 Schumacher's Chiang Mai Dragon Aquamarine
• The chairs are going in the back room and that means that the room needs some love too. This was the original master bedroom in our house, but now that we put big sliding doors out to the deck it's the most lovely light-filled room (as I searched my archives looking for a photo of this room, it appears I've never shown it to you! We'll have to fix that). The first thing that has to happen in this room is that the hideous wall texture needs to go. During the renovation we got rid of that wall texture in most of the house, but it still lives on in the back room, the small hallway downstairs and the downstairs bathroom. I got a quote from a contractor to redrywall the room, which is what we ended up doing in the living room during the renovation, but it was $1,900 and that was definitely not in the budget. So now the plan is to make a really big mess. All of that texture is really joint compound (I don't know who did it but they were clueless and the texture in the back room is worse than anywhere else. They also textured AROUND light switches, outlet covers and light fixtures) so it is really dusty stuff but it's not overly strong. So the plan is to chip off the majority of it and then come back with a belt sander to smooth it down. We may have to skim coat the walls after that but I'm not positive. Thankfully that room has wainscoting, so we're only doing the the top half of the wall.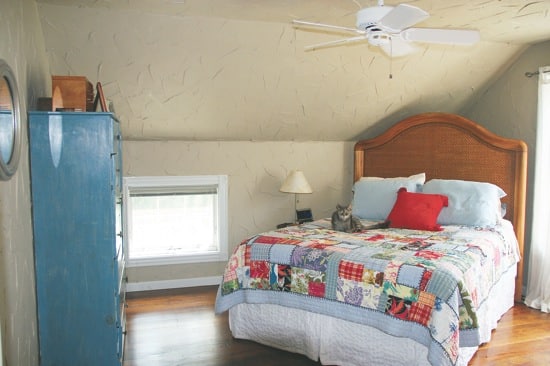 This is actually the before picture of our bedroom (pre-remodel), but you can see the texture on the walls and ceiling. This was EVERYWHERE in the house. We removed most of it during the remodel but the back room still suffers from a severe case of trapped-in-a-lemon-meringue-pie-itis.
I think we've decided the easiest route is to take the ceiling down. We'll replace it with tongue-and-groove pine that I'll paint out. Once we do that all of our downstairs rooms (other than the living room which technically both floors) will have wood ceilings so it should help make things more cohesive.
• It's time for a change in the living room. This has been brewing for a few years now and it's time to change things up. We've been living with the same living room color scheme for 13 years now. We had a red couch and the mustard-colored chair and ottoman in our apartment and we bought a new red couch after we bought the house. The couch has not worn nearly as well as I had hoped (and I'm not happy about it because I seriously thought this was an investment piece that we'd be recovering rather than replacing) and I'm really over the whole French country color scheme. I've been dreaming of navy and gray for awhile (as evidenced by the office renovation I did last year) and when we picked the colors for the living room I had that in mind. I tried to order this rug from an online vendor but they sent me the wrong rug THREE times. It was a huge pain to deal with and then they told me the rug I really wanted was backordered until December and they never refunded my money, intending to hang onto it more than seven months until December rolled around. I demanded an immediate refund and swore to never do business with them again. But another online vendor has it coming into stock in a few weeks and I'm going to order it then. I think the dark navy will contrast well with the light floors and will hide all manner of dog hair, and I'm going to order it in an 8-by-10-foot size, vs. the 6-by-9-foot rug we currently have. I hope to find a new tight-backed couch in a durable light gray type fabric. It will be the first neutral couch I've ever purchased. We've bought two couches and both have been bright red. I love the mustard chair and ottoman and those are in really good shape so I'd like to have them reupholstered. I realize that will probably cost the same (and maybe more) than buying new pieces, but I like these and I think they are classic. I don't like throwing away things that are in good shape.
Of course navy, gray and white would be way too boring, so I will bring in an accent color that will probably be some version of orange or red, but we'll play that one by ear.
• Restain the coffee table. This was a hand-me-down, hand-me-down table. It originally belonged to my parents. I think my mom got it as a sample for her catalog (she used to operate a nautical gifts and gear mail order and brick and mortar store; I miss it). I know it's old because the smoked glass in it has the sailplan for a boat my parents owned a very long time ago on it. They gave it to my brother and sister-in-law, but they stopped using it when they had kids prone to bashes their faces into furniture when they were learning to walk. So I took it and love it. I think it's the perfect size for our seating area. But it's seen better days. I'll sand it and restain it (lets hope it goes better than my countertop staining project) and I may replace the glass with clear. I kind of like the sailboat on it because it makes it unique, but I hate the smoked glass.
With all that happening, here's what's NOT happening this winter:
• The hideous downstairs bathroom. Ironically this was the room we both hated the most when we bought the house and we swore we'd redo it immediately. It's funny that it is literally the only room in the whose house we haven't touched in the decade we've been here. But bathrooms are expensive and while it's ugly, it's functional, so this will wait for now.
• The kitchen. I'm really anxious to make a few changes to the kitchen. I don't want to replace the cabinets, but I want to reface them and modify them so that they go all the way to the ceiling, if that's possible without totally replacing them. I also really want new countertops and a tile backsplash. But we agreed that our savings account has to hit a certain number before we will do the kitchen and I don't think we'll be there yet this winter. So we'll keep on saving and I'll keep on dreaming.