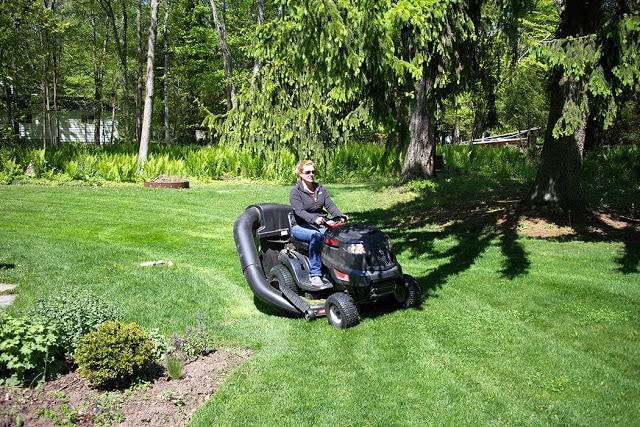 We've been caught in a crazy weather cycle all spring. We'll have days of weather doing exactly what it is supposed to do here this time of year followed by days of intense cold. All of that has made gardening a little challenging, but it has been enough to turn the grass a brilliant green. Add in a lot of rain, and we've got a healthy lawn that is growing rapidly.
As much as I love my garden, at this time of year, before the garden is really doing much of anything, it's the lawn that steals the show and it is looking fantastic.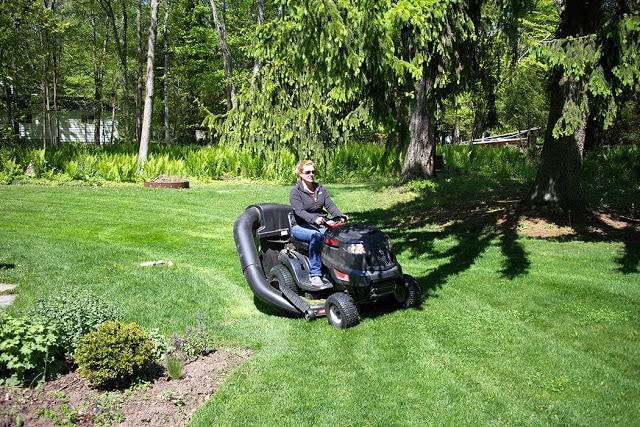 I look like a bad-ass on the Troy-Bilt Horse XP don't I?
Mother Nature plays a role in that, but so does the best new machine to come our way in a long time: a Troy-Bilt Horse XP lawn tractor. Although we've only had to cut the lawn a handful of times, this baby is making quick work of lawn-maintenance on our acre-and-a-half property.
I'll admit to liking this mower in part for purely aesthetic reasons. I think the charcoal gray paint job is sort of stealthy. The seat is super cushy, the steering wheel is padded and oh yeah, there's a cup holder. I'm just going to declare this now: There should never be a lawn mower without a cup holder.
Apparently you are not supposed to choose a lawn mower because of its color or its cupholder, so the good news is that there is plenty to like on the Horse XP on the practical side of things.
It has a hydrostatic transmission, which is a fancy way to say that you control the speed through lever controls with your hands. To put that in practical terms, basically you can settle into a speed you're comfortable with, sit back, have a sip of that drink next to you and just steer.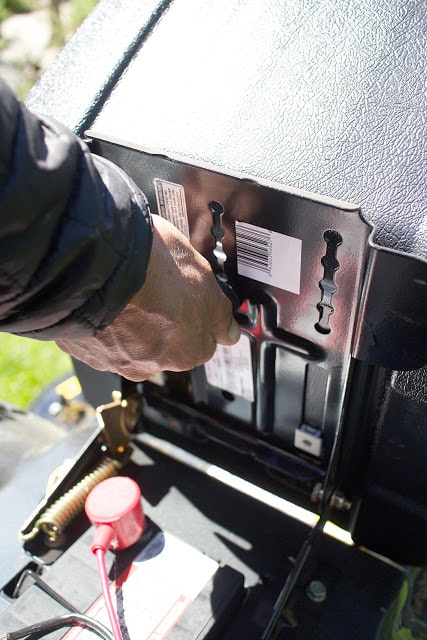 Adjusting the seat is just a matter of flipping it up, loosening a wingnut, sliding it forward and tightening the wingnut.
There is a 13-inch difference in height between Mr. Much More Patient and myself (something we've made other accommodations for including a height-adjustable showerhead and tilting mirror), so the fact that the seat placement on the Horse XP is easily adjustable is much appreciated. I have to put it all the way forward and he puts it all the way back. You just flip up the seat, unscrew a wingnut-type device, slide the seat into the desired position and retighten the wingnut.
My one small complaint about the Horse XP has to do with the seat. Because it has the built-in safety function of requiring a certain amount of weight in the seat for operation, if I'm not sitting far enough back in the seat, the engine can threaten to cut out. I suspect this is probably because I have the seat so far forward and I'm a bit of an edge sitter. I think I'll get used to this in time, and obviously I'd rather have to deal with that than have a kid get hurt if they came across the mower.
The mower does not have power-assisted steering but you would never know that. It turns easy as can be, with no need to muscle the wheel around, something I really appreciated after having an old riding mower that was more of an upper body workout than I cared for. As for the cutting ability, well you can't ask for much more. It rained buckets all day Saturday and after letting the sun dry things out for the morning, I gave the Horse XP a spin on relatively damp grass. It didn't mind a bit, its 46-inch wide cutting deck still making quick, even work out of the long grass.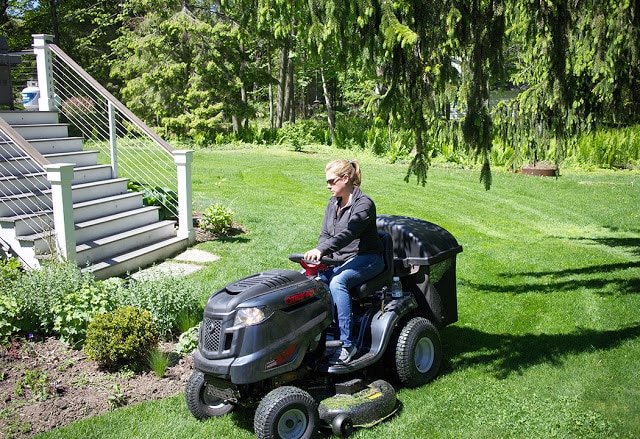 I'm able to easily mow right up the edge of the garden beds. Check out the cup holder.
We also got a bagger attachment for the mower and this is where the gardener in me goes a little nutty. The first time we cut the lawn with it, there were a lot of leaves still kicking around after winter, so what ended up in the bags was about a 50-50 mix of chopped up leaves and grass. I added the whole lot to the compost pile and boy did that kickstart some serious compost making (allowing me to achieve all new composting highs). Mulched grass is good for your lawn, so most of the time we allow the clippings to remain there, but come fall the bagger is going to be my best friend.
We have a tough time growing a good lawn. We have really sandy soil, use only organic fertilizers and have two large dogs using it as a bathroom, so the kind of lawn we can have can be somewhat limited. I really think our lawn is looking better than ever this year and I attribute that to leaving the lawn longer. Yes, I admit, in the past we were lawn scalpers. That's because mowing the lawn was such a pain and took so long that we'd just cut it short to extend the time between mowings. But now that it is easy and quick to mow, we're leaving it longer and the grass is much better for it.
Here's the technical language you need to know: This is a paid endorsement. I have been compensated and provided with the product free of charge in return for my honest opinion. Here's what I have to say about that: You know I will always give you my real opinion on anything I review and this is no different. On top of that, Troy-Bilt went out of their way to make it clear that they wanted a REAL review, whether it be good or bad.