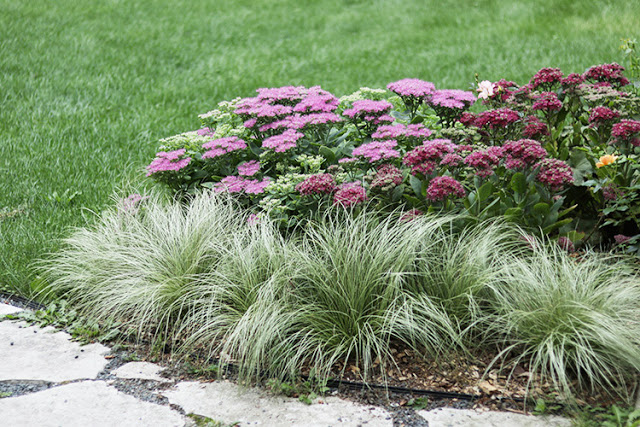 Like most gardeners, for me this time of year is as much about late season chores like dividing and moving as it is about making notes of what worked and what didn't. It's always amazing to me how different the garden looks in September compared to what it looked like in June.
Back in June I wouldn't have noticed this spot in the garden because it was nothing special. But now it is an area worth noting. To me, this combination has all the best aspects of texture, color and structure.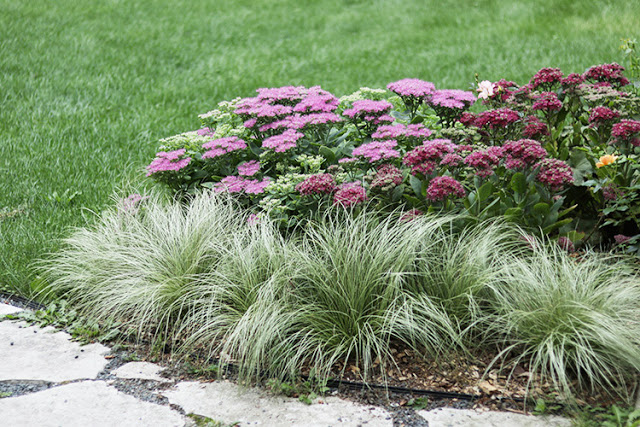 This is the end of the path by the garage, on the four feet or so of garden that borders that part of the path. On the edge is a fluffy, finely textured grass similar to Mexican feather grass (Nassella tenuissima). Mexican feather grass is a lovely annual in my zone 5 garden, but in many other places it is highly invasive and should not be planted. Unfortunately I can't tell you what grass this is because, um, I lost the tag (seriously … every time!). I know it's not hardy here though, and that's fine because this is a tough spot for a plant to live, what with snow being piled on it from clearing the path.
The specific grass doesn't much matter because there are probably a dozen that could offer the same look. Beyond it is a grouping of sedums, both 'Autumn Joy', the darker of the two, and 'Neon'. All of them were planted from cuttings, which is to say I pruned some in another area and stuck the prunings in the ground. With sedums like this, it's just that simple. The paler florets are areas where I cut the plant back in June to give me a longer period of blooming and keep the plants from flopping.
Short of watering the grasses in when I planted them and cutting back some of the sedums once, I've not done anything more than walk past this area all summer.
I just don't know how you can get better than that: a beautiful moment in the garden for basically no effort. It's one worth noting.