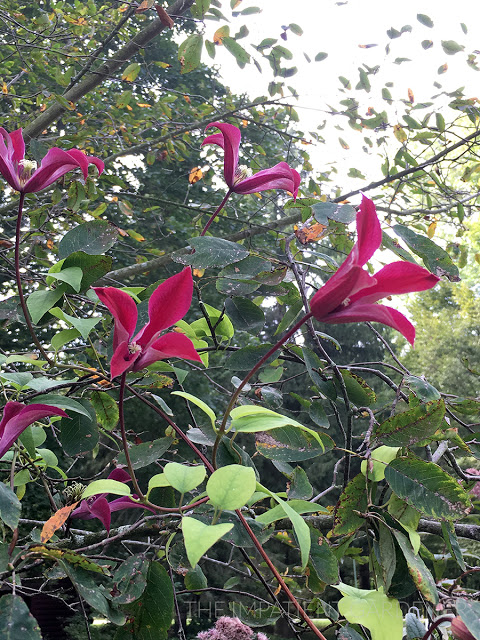 It's no secret that I love clematis. I absolutely cannot get enough of them. Last time I counted I think I had 22 different varieties growing in the garden. A few of them are not doing well, so that number may go down, but it's far more likely that by next summer the number will go up. Having maxed out my options for trellises, obelisks and other structures to grow them up, I started growing them up trees and shrubs. It's now my favorite way to grow them.
Want to know why? It's because they bring renewed life to another plant. And this weekend a little clematis surprise reminded me of that.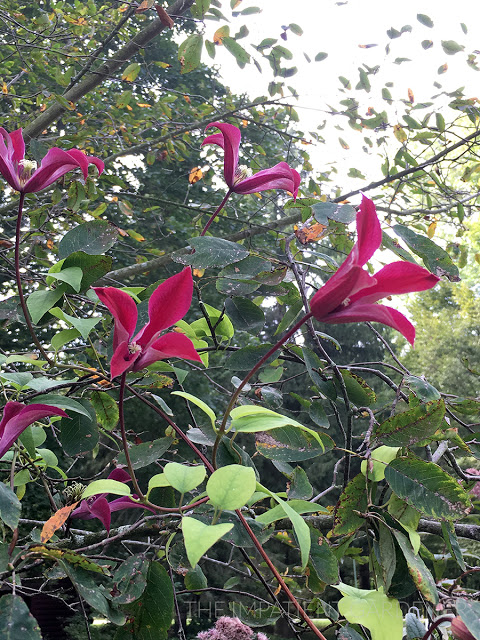 I planted 'Gravetye beauty' about three years ago at the base of the Serviceberry tree, where it grew a bit, despite the shade, but never flowered. This year it grew long enough for me to train it up the trunk of the tree and tuck it around a lower branch and, having done that, I promptly forgot about it.
And then, out of the corner of my eye, I noticed that the Serviceberry was blooming. In September. And the flowers were red! Of course it wasn't the tree, it was 'Gravetye,' finally showing its stuff. Frankly, it has no business blooming right now, but I suspect it is so happy that it finally saw some decent sun that it couldn't help but show its gratitude with a few blooms.
The Serviceberry itself doesn't look so hot at this time of year. It's a bit sparse at the bottom and it doesn't do much in the way of fall color. But now that it has beautiful maroon flowers growing from its branches, suddenly it has fall interest.
Well done, clematis. Well done.