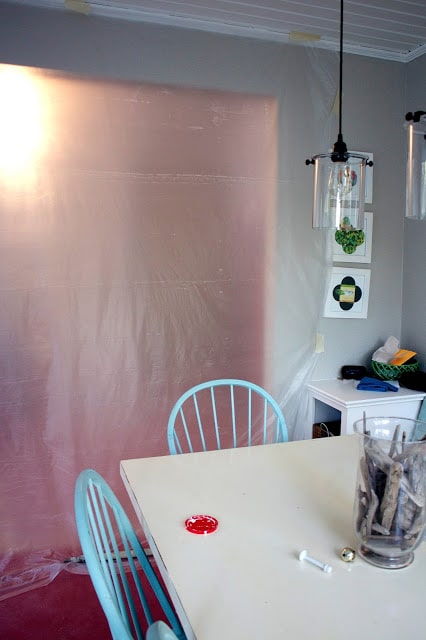 No matter how much we try to keep our expectations in check, no matter how much we learn from experience, there are bound to be bumps in the road in any project of good size.
Our kitchen mini renovation has been no exception. As much as we hoped we'd be in a state of kitchen flux for a small amount of time, things did not go as planned.
Earlier this week I took advantage of April Fool's Day to pull your leg a little bit about the kitchen renovation. Painting the cabinets a
luminous shade of lavender
was a joke. But I wasn't kidding about painting the cabinets.
Long story short, there was a problem with the paint. Honestly this can be chalked up to just an unfortunate situation. The painter used a product he wasn't familiar with. The rep at Sherwin Williams (an industrial coatings rep for our area) apparently failed to mention that the product he was using has the rather strange characteristic of changing colors rather dramatically with additional coats. It wasn't until about halfway through the first day of a difficult installation (our house is old and wonky so there is not a 90-degree corner or a flat wall to be found) that we realized there was a major problem with the paint. Some of it wasn't applied evenly and there were at least three different shades of white (depending on how many coats were applied) on the cabinets. Even at a glance, the problem was obvious.
Anyway, the only way to fix the problem is to start from scratch. So even though the cabinets have been more or less installed for two weeks, this is what is going on this week.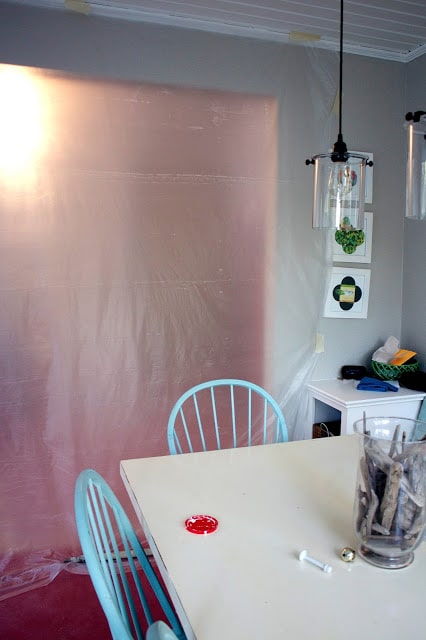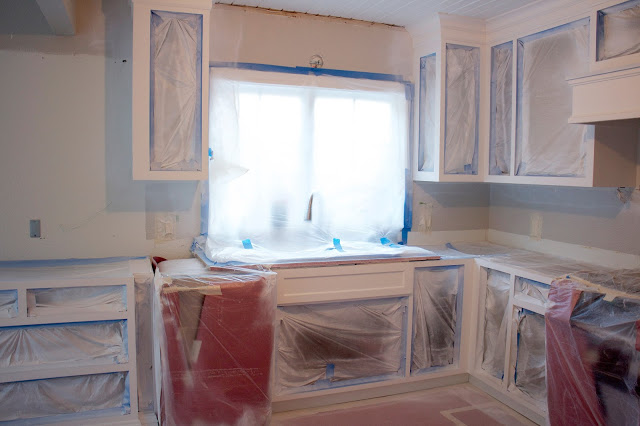 A different paint crew has come in to sand, prime and paint the cabinet boxes in place. The doors and drawer fronts are at the paint shop and will take a little longer to get back.
No it's not optimal and I'd be lying if I said I wasn't disappointed, but it's not the end of the world. It's fixable and the important thing is to get them fixed so they are right. The good news is that it doesn't look like the repainting has delayed our countertop installation. The new painter encouraged us to hold off on installing the counter until the painting was finished and since I've not received the call that they are ready to install, I guess no change was needed on that front.
I am really looking forward to putting everything away in the new cupboards though. It will be nice to cook a meal without having to go on a hunt through a room full of boxes.
We have been able to function pretty well in our half-finished kitchen. We cut our laminate countertops into three pieces and knocked off the front edge (that would have stuck down in front of our drawers) and just set them back on the counter. We hooked the old sink back up temporarily and got the dishwasher and range going as well. That's pretty luxurious compared to some kitchen renovations where people find themselves doing dishes in the bathroom for weeks.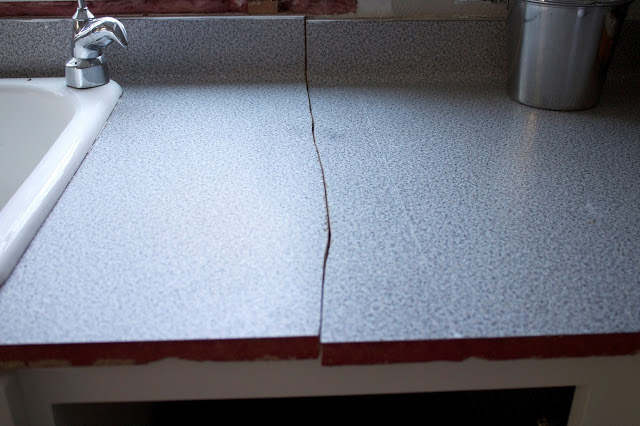 We just cut the laminate countertops into pieces and laid them on top the new cabinets.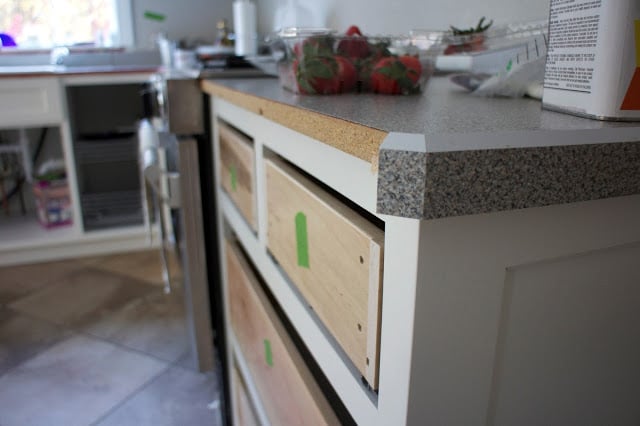 We took off the edge of the counter so the drawers (when the drawer fronts were still attached) wouldn't bang into it.
The update from this morning was that the painting would be finished today so we will at least be able to get to the fridge by tonight. And then we can start putting things back together. Again.