You know how the folks over at
Young House Love
are always out crashing houses? Well, here's my take on it. Welcome to Garden Crashing!
This is a garden that was actually spotted from the road on a bike ride. You know a garden is good when it's so impressive from the road that you do a reverse address search online then call up the owner out of the blue to see if you can come see the whole garden close up.
This garden has evolved over a couple decades and covers a huge expanse. The owner does all the gardening herself, but she's dedicated: She spends between five and eight hours PER DAY working in the garden during gardening season. In winter, she said, she spends a lot of time repainting her walls (boy can I relate).
So without any further adieu, welcome to our first "official" garden crash.
Groundcovers are used throughout the garden, rather than mulch. Here Lysimachia nummularia (Creeping Jenny) brightens up the area around the sunroom.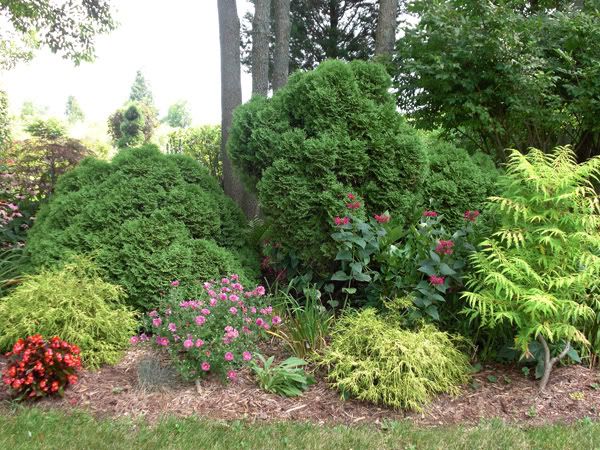 There is great texture in this garden, including these evergreens. The puffball feeling of the dominant evergreens in back is accented by the threadleaf evergreen in front and the pointy Sumac on the right.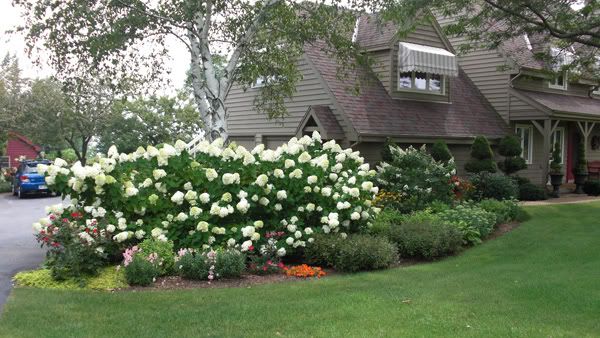 You know I love hydrangeas, so when I saw this massive stand of Limelight hydrangeas, which do an incredible job screening the parking area from the driveway as you approach the house, I was in love.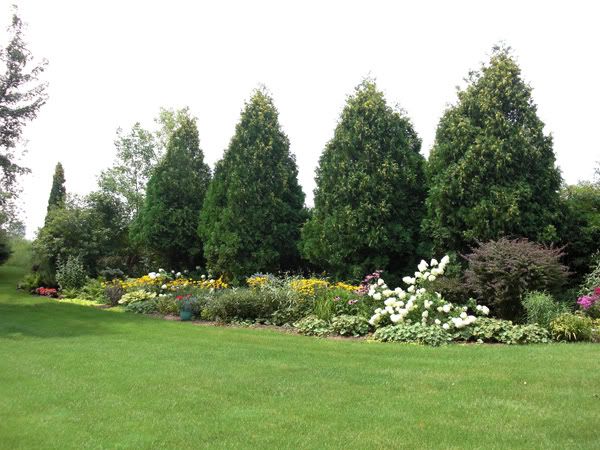 There is also great use of repetition in this garden. Here, these large evergreens screen a naturalized area of the property, but you'd never know it was lurking back there.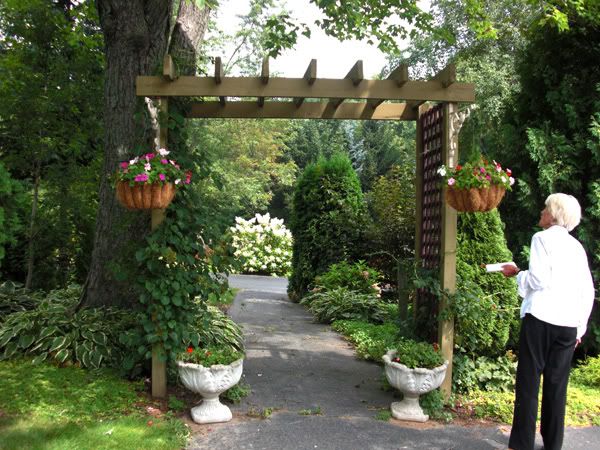 There are fantastic arbors throughout this garden (note to self: I must find a place to put an arbor). What was so charming about this one is that it leads to the neighbor's house and garden. Both talented and dedicated gardeners, these neighbors actually garden together and encourage people to walk back and forth between the two yards. I love that.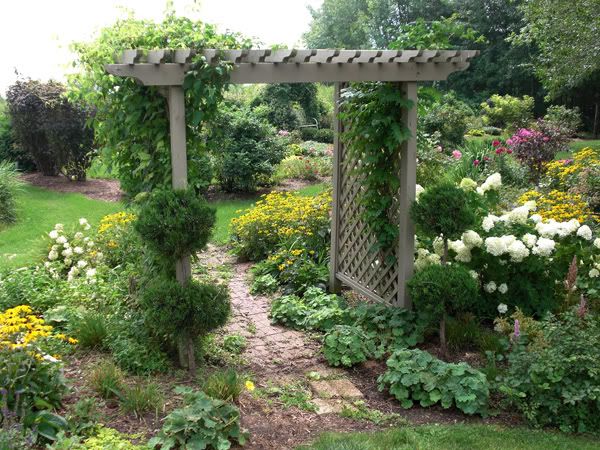 Here's another beautiful arbor (bulit by the homeowner's husband). I love how the path is lined with Alchemilla mollis (Lady's Mantle) and leads to a less structured portion of the garden.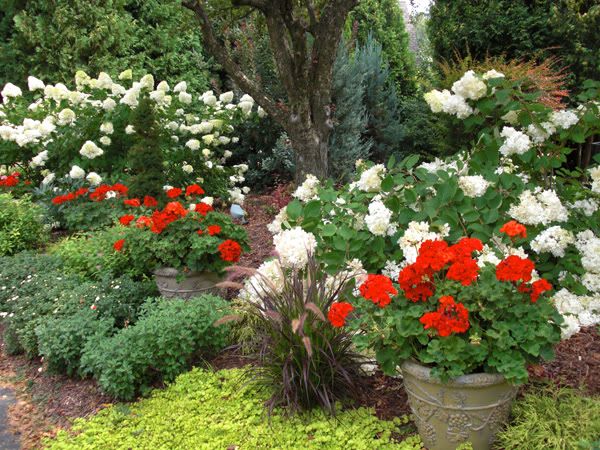 This is another example of repetition: potted red geraniums are dotted between hydrangeas at the end of the driveway.
This is a very inventive use of containers in the garden and a great way to get some height, while again, using a repetitive element.
So what do you think about this garden?