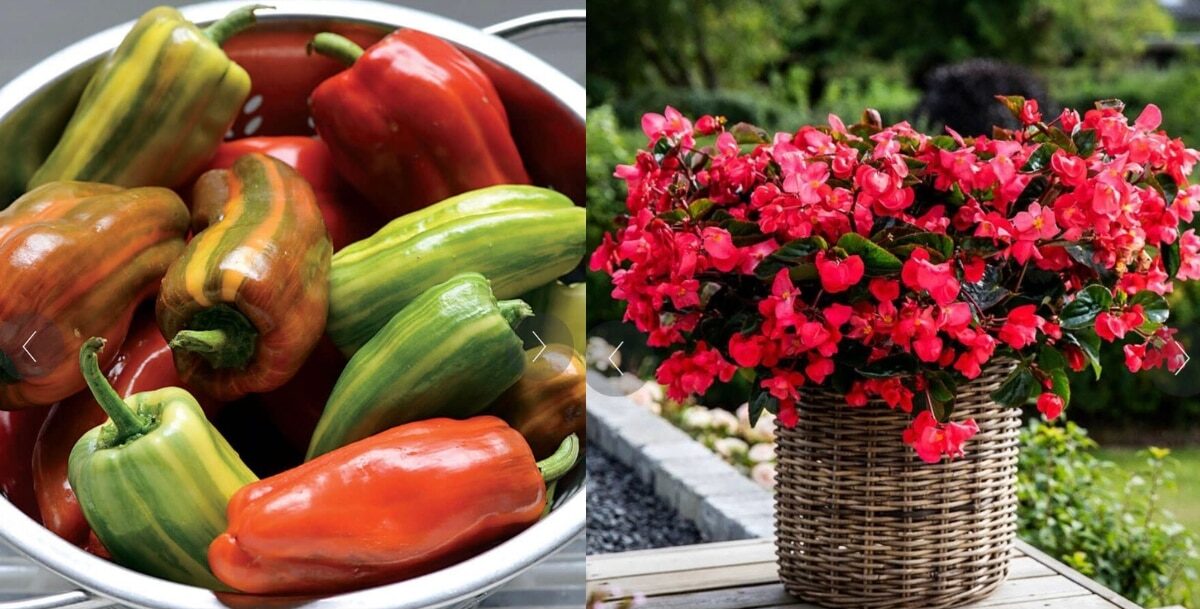 Thank you to Park Seed for partnering with me on this post. As always, all words and thoughts are my own.
You might be asking yourself what begonias and peppers have in common that they'd end up in the same article. A lot actually, at least when it comes to starting them from seed, which makes them good seed-starting partners. 
SEED-STARTING SIMILARITIES
Begonias and peppers are good seed starting partners for a few reasons.
They should be started from seed at about the same time. Peppers should be started about 8 to 12 weeks before your last frost, a bit earlier for bell peppers and a little later for hot peppers, but I start them all at the same time. Begonias should be started about 10 to 12 weeks before your last frost. By batching it all at the 10-week mark I simplify things a bit, and particularly in the case of begonias, it's OK to be a little on the late side because they'll start performing in the garden quickly. If you don't know your last frost date you can look it up here, or you can use the From Seed to Spoon app to just see the dates for starting various crops based on your location.
Begonias and peppers are both heat lovers, so you can sow them in the same tray and give them the same conditions, about 70 to 80 degrees of bottom heat from a heat mat.
As you grow them on inside under lights they'll both appreciate a good amount of light, although you can remove them from the heat mat after they germinate.
HOW TO SOW PEPPERS
If you've ever grown tomatoes from seed, you know most of what you need to know about peppers, and that's not a surprise given that they are close relatives. Sow them about a quarter-inch deep in seed-starting mix or, if you're using the Park's Original Bio Dome like I did, you can just put them in the hole in the special sponges. 
Keep seed-starting mix evenly moist or leave about an inch of water in the bottom of the Bio Dome, then cover them with a humidity dome and set them on a heat mat until they germinate in about seven to 10 days. 
HOW TO SOW BEGONIAS
Begonias are sown differently from peppers. Since the seeds need light to germinate, they should be sown right on the surface of the soil, or on top the Bio Sponge. 
But don't expect to see the seeds on top the soil, because begonia seeds are incredibly small, almost like large dust particles. Anytime I'm dealing with a very small seed, I put the seeds into a small container (I used the lid of the toothpick jar in this case) and use a toothpick to pick up an individual seed then lightly wipe it on the surface of the soil. 
If you can find pelleted begonia seeds, it's well worth the extra cost, although you'll probably still need to do the toothpick trick.
AFTER SOWING
After sowing, set the seed tray on a heat mat under a grow light (the begonias need light, but if you are only starting peppers, the light isn't necessary until after they germinate). Keep them evenly moist and remove the dome when most of the seeds have germinated.
If you're growing in cells with seed mix, you'll need to transplant the small plants to pots (3-inch or so) when the roots fill the cell. Use regular potting mix at this point. You can also start using a dilute fertilizer at this point.
If you're growing in a Bio Dome, you'll want to fertilize with the included fertilizer pack but you may not need to move the small plants up to pots. When it's safe to plant them outside, just pop them straight into the garden.
WHAT I'M GROWING
After a few years of growing peppers I've figured out what types of peppers I'll actually use and that determined my selections.
Both of the begonias I'm growing are new-to-me varieties that I'm eager to add to the garden.
In most areas, it's not too late to start either of these, alone or together.
For limited time, use the promo code IMPATIENTGARDENER15 for 15% off your Park Seed order.