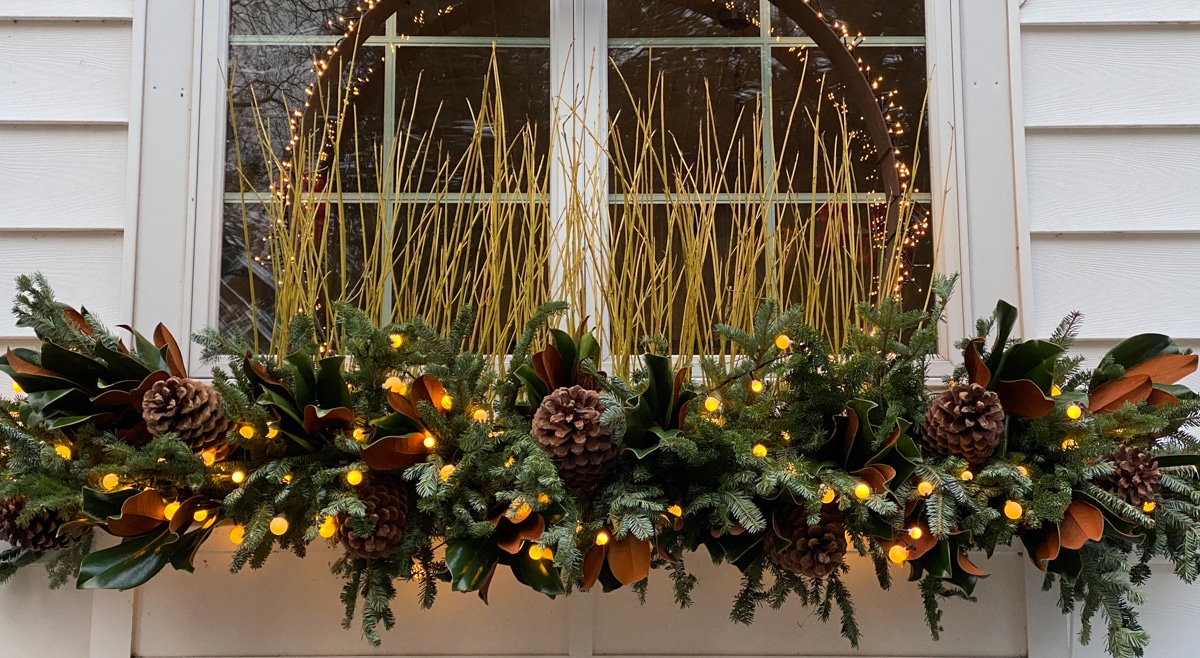 I love creating winter containers. They can be simple or over the top, and free or quite spendy. All of them bring color at a time of year when the world seems to be in a dull brown haze. Add lights and you have instant holiday cheer.
No matter what time of year, I particularly enjoy creating window box displays, in part because they can be a little challenging to get right, but also because they are the most prominent containers on a property by virtue of the fact that they are literally front and often center. But the winter window box might be the most fun to design and have the biggest payoff of any containers I design all year.
CONSIDER THE ANGLE
Anytime you are creating a window box design, you have to take account how it is mounted. The angle from which it will be viewed is hugely important to how the design is structured. Generally speaking, the higher the window box, the more you want plants or greenery to either stick out from the edge or trail over the side. 
You also need to consider the view from inside. My No. 1 tip for window box placement if you are installing a new one is to mount it 6 inches or even a little bit more lower than the window frame instead of directly under it, especially if it is higher than eye level where you're less likely to see the gap even if it is empty. I'm OK with obscuring a bit of the view out the window in the interest of a good container design but obviously you still want a window to be a window.
A SOLID BASE
Winter window boxes, which rely on evergreen boughs, stick, twigs, dried flower stems and perhaps faux stems or other decorations, are all about structure, so to make sure everything stays where you want it, you have to have a solid base.
For years I used 2-inch-thick foam sheets cut to fit the window box snuggly. These sat on top a bit of leftover potting soil from the summer display. I've since decided that I won't replace foam when it is no long usable. In the future I'll use chicken wire bent to over potting soil to hold branches in position or just stick them straight into potting soil (freezing them in place by watering it all in and letting winter take it from there.
EVERGREENS
I typically start a winter container with evergreen branches. Here are a few of the places I get them from:
Foraged! Either from our yard or somewhere else with permission. You have to love free.
Home Depot and other places that sell real Christmas trees often cut off the bottom branches before they net trees and they are happy to give these away to whoever asks.
Buy a cheap Christmas tree and cut the branches off it. I know it sounds a little excessive, but this is often cheaper than buying bales of cut greens at garden centers.
Any evergreen will work, but using a variety of branches can be a great look. I like to create an evergreen tutu, with shorter branches of similar length sticking either straight out or slightly turned down. Keep in mind that you don't have to fill the entire window box unless you can see the entire top from either inside or outside.
MAJOR FEATURES
If you're going to use a major feature in a window box, it can be helpful to start with that. I have a steel ring that I use in mine every year. It was inspired by the rings available at Detroit Garden Works, but done on a bit of a budget. We had a local metalworker make it for us but rings from wagon wheels, whiskey barrel planters or even a spray painted hula hoop can create a similar look.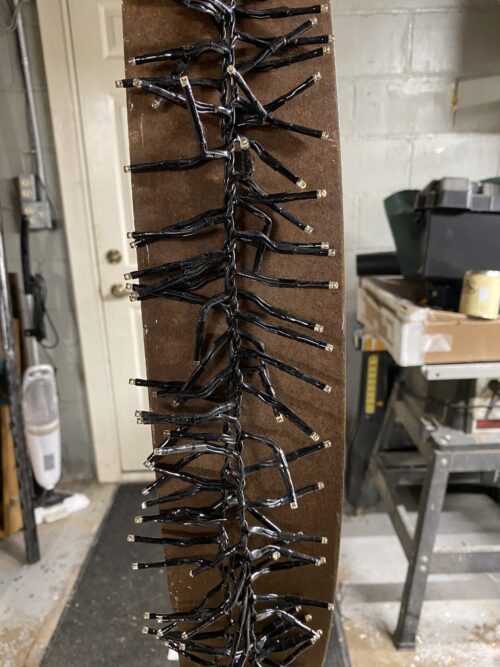 I wrap it with cluster lights secured with cable ties to add form and light from both inside and outside.
ADD IN BRANCHES
Then I add in twiggy branches, typically dogwood or willow, but anything can be used. These can be placed individually or in clusters. To keep tight groupings, bundle twigs together with a stake (a bamboo stake works well) and secure them with a cable tie (aka zip tie). When you place these you'll only need to put the main stake in the soil or whatever you're boiling into.
FILL IN WITH SPECIALITY GREENS
Next I go back and add in specialty greens which can add color or texture. I usually have to purchase these so using them as an accent keeps the cost down. Magnolia leaves, juniper, incense cedar or eucalyptus are some of my go-to varieties that I either layer in to the evergreen layer or let them stand up a little more to make them a bit more important.
BRING ON THE COLOR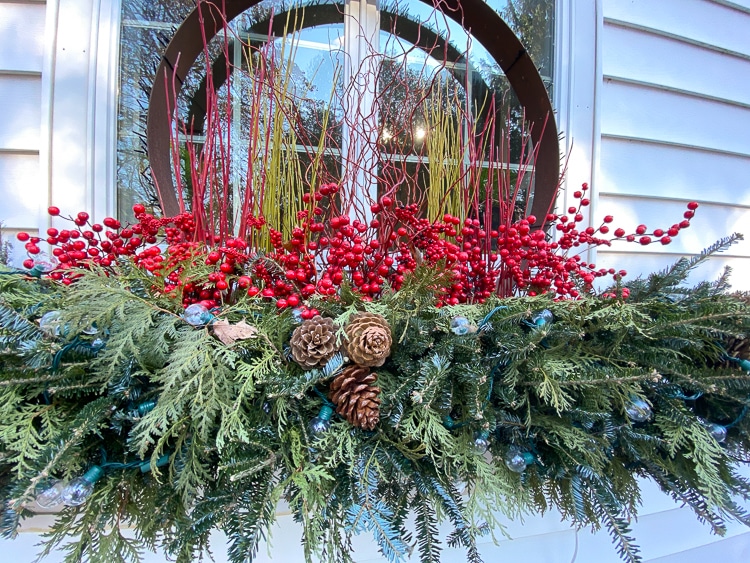 Next comes some color: Berries, real or faux, (just make sure if you use faux that they are labeled "weather resistant") are a natural pick, but this is where you can get really creative. Faux botanicals, ornaments, pine cones and anything else that strikes your fancy works here.
LIGHT IT UP
Last comes lights. Everyone has their favorite kind of lights, but I'm all about the warm whites. I shake it up a little by looking for interesting shapes, like golf-ball sized balls, micro cluster lights or big cafe-style lights. The key is to secure the lights where you want them to stay but clipping them in or wrapping them around branches. Keep in mind that they will be blowing around outside, perhaps having heavy snowfall on them and whatever else the weather can dish up.
Pre-plan for lights so extension cords (led to a timer, of course) can be tucked behind or under evergreen branches. For a "lit from within" look I like to take an old string of lights and just lay them at the base, hidden from view from both below and through the window, but providing a lovely glow. 
As a final touch you may want to use something like Bonide's Wilt-Stop, which can help evergreens stay fresh longer. In my cold climate I don't find this to be necessary but it can help extend the life of a display in warmer areas.
When it comes to making your own winter window box, mix and match elements to find something you like. It all looks wonderful through winter when we crave color.
Want to watch a winter window box come together? Check out this video: