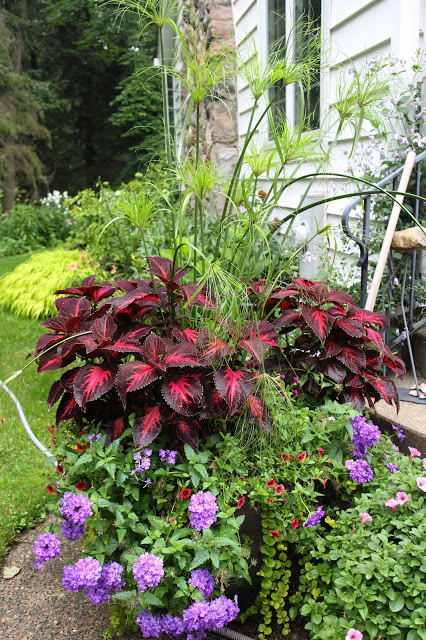 Wouldn't it be nice if you could just stick any old plant into a container with any other plant and have it be beautiful and grow perfectly? Anyone who has tried this knows it just doesn't work that way.
I scoff a little when I see some beautiful container planting in a photograph that makes absolutely zero sense because I know those plants have no growing conditions whatsoever in common.
So you are limited in that regard. Plants that love lots of sun just aren't going to grow well with plants that love lots of shade. Unless that sun plant is really big and will actually create the shade for the shade-loving plant. I will say, I've been a lot more successful in pushing a shade plant into a sunnier spot than I have been pushing a sun-loving plant into a shady spot. That latter combination is a recipe for disaster.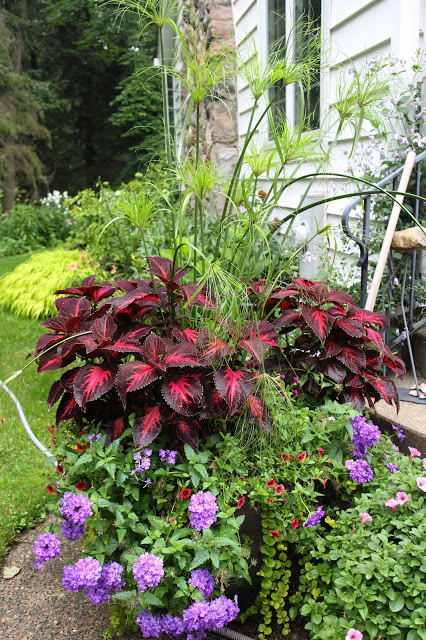 'King Tut' is my favorite "thriller" for the large container by the front door.
Sometimes, though, you can create microclimates even in something as small as a container planting. I do this every year in the big container by the front door that features Papyrus 'King Tut' as the focal point. Papyrus is really a water plant. Give it enough water and it will grow and grow and grow. Let it dry out and it will become frozen in time and its triangular stems will fold in half. But few plants offer such a good "thriller" show as King Tut, so I've planted it every year since I first tried it five years ago or so.
But there's a secret to it. I plant it in its own container and then I sink that container right into the main container. This serves two purposes: One is to be able to water just King Tut much more than the rest of the container and the other is to keep King Tut from taking over the entire container, which I think it probably would if given the opportunity.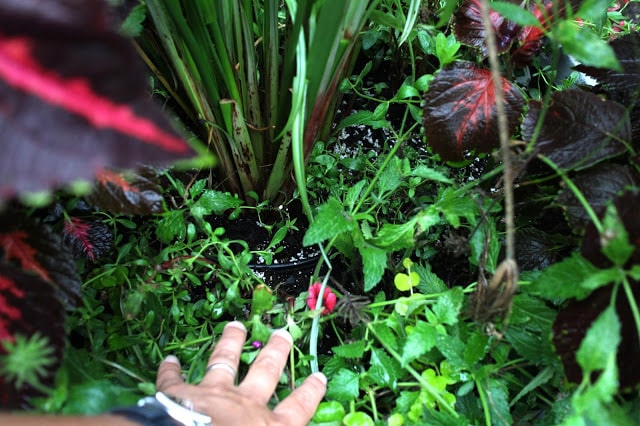 Do you see the hidden 3-gallon nursery pot in there? I plant 'King Tut' in it and then sink the entire thing into the larger container.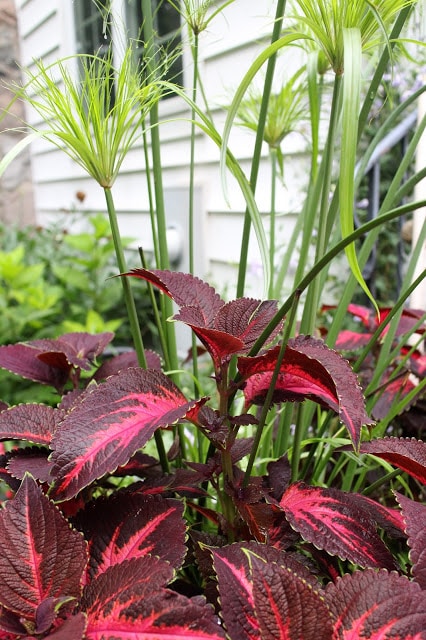 The coleus in this container planting would not be happy if it got as much water as the 'King Tut' papyrus grass. By planting the King Tut in a container within a container both plants can have the conditions they thrive in.
The container-in-a-container allows me to water the King Tut every day even though the rest of the container only needs water every few days or so because it is so large. The same practice could be used for all sorts of special-needs plants such as succulents or cacti planted in a container with more typical annuals that require more water, fertilizer and different soil.
It's just one more way to get even more creative with container plantings.
P.S. Never fear, The Garden Appreciation Society is coming later today. I've just been sitting on this post for awhile and wanted to publish it since I've been a bit lax with the posts this week.