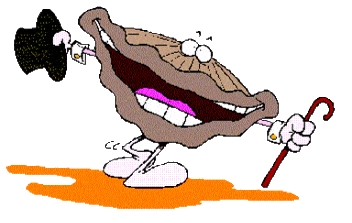 Companies who pride themselves on customer service that is.
Let me just fill you in on a little bit of the background that I, um, glossed over in yesterday's post. I mentioned that the first countertop company I talked to sort of left me hanging when they told me my project was too small for them. What I didn't mention was that I whined about made a comment on the Caesarstone Facebook page about this and immediately got a response from them. The main contact person was on vacation but a couple other people in the company tried to help me, including giving me the suppliers in my area for me to contact. I did contact almost everyone on the list, which ultimately led me to the place that I'm getting the counter from.
Fast forward to this morning. Olivia from Caesarstone not only commented on the blog, but also attempted to reach me through Facebook and at work. Keep in mind, this is all for an eight-square-foot countertop, which is a big deal to me because it happens to be in the closest thing I'll ever get to my dream bathroom, but it's hardly a big deal for a company that routinely outfits high-end custom kitchens that are probably the size of my entire house. Olivia told me she wanted to do whatever she can to get me the countertop I really wanted.
What followed over the course of the next couple hours is actually pretty amazing. Ultimately I got a call from Chuck, my go-to guy for the countertop, who told me that Caesarstone, the supplier (the name of which I completely forgot right now, unfortunately), Midwest Tops (the wholesaler that I'm going through) and even Chuck himself, were all doing whatever they could for me to get the countertop I really wanted. And then they offered me a price on it that was about 50% higher than the remnant piece I had ordered, but it wasn't for a remnant. In other words, a lot of people were bending over backwards so that some whiny Midwesterner could have what she really wanted.
The really happy ending to the story would be that I said yes and took the Caesarstone at a higher price. And had this all happened a month ago or so, I probably would have done it, but I simply can't justify an additional 50% for the countertop, even though I know it was probably a good deal and I know a lot of people went out of their way to make it happen. I actually felt like a bit of a schmuck turning down such a nice offer, but honestly, the whole experience has restored my faith in businesses.
And that makes me:
And here's the thing: We're going to be getting new kitchen countertops within the next year or two (don't mention that to Mr. Much More Patient though; it'll be our little secret, OK?). Who do you think I'm going to go to for that? I'm happy to pay a little more for great service and with what happened today, I know exactly where to go to find it.